Thursday 5th March 2020
Ride of the Month - India!
This month we're heading to the motherland of jodhpurs, gymkhanas and polo. What better way to explore this glorious country than on a horse?
---
LEGENDARY HORSES
Famed for their incredible bravery, Marwari horses were once considered semi-divine. Trained for battle, the qualities still admired in them reflect this; hardy, agile, courageous, and loyal.

Their distinctive "scimitar" ears were an advantage in desert warfare; swivelling an unprecedented 180 degrees, they provide superb hearing, vital to detect encroaching enemies - and also to keep sand out during a storm! With their proud bearing and history, riding these spirited horses through their homeland is a true privilege.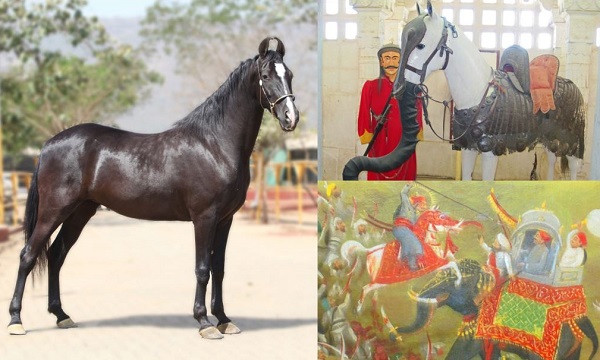 Clockwise: Marwari horse; museum display showing Marwari battle armour with fake trunk; painting depicting a Marwari taking on a battle elephant
FASCINATING FACT: Rathore warriors used to disguise their horses as baby elephants (complete with fake trunk!), allowing them to sneak up close to fully grown Indian battle elephants before rearing up to launch their deadly attack.
---
AND AN EQUALLY LEGENDARY GUIDE
Your charming guide Raghuvendra "Bonnie" Singh is always immaculately turned out in full Indian cavalry uniform, moustache smartly twirled.

Descended from the noble family of Dundlod, princes of the Rajput caste, if it wasn't for Bonnie and his successful Marwari stud, the breed might not have survived - and without Marwari horses, the original idea for these fabulous Indian "safaris" would never have been born.

Top: Bonnie Singh; Bottom: Flag Bearers carrying the Dundlod standard
FASCINATING FACT: Bonnie's ancestors famously defended their fort at Dundlod to withstand the onslaught of the dreaded Mughal hordes. When you ride with Bonnie you do so as part of this illustrious clan, accompanied by uniformed flagbearers, and with your martingales and saddle cloths made up of the Dundlod family colours.
---
FAR PAVILIONS
Bonnie acquired his original horses during the filming of "Far Pavilions", a HBO series based on the book of the same name about the British Raj.

Employed as filming co-ordinator and an invaluable source of local knowledge, Bonnie advised the producers that for authenticity the horses used in filming should be Marwaris. He sourced the best that he could and in doing so discovered that the breed was fighting for survival, so when filming was over he bought them himself.

L-R: Omar Sharif, Christopher Lee, Amy Irving & Ben Cross, all riding Marwaris in "Far Pavilions"
FASCINATING FACT: Far Pavilions was HBO's first ever mini-series, and at $12 million, the most expensive ever series at that time.
---
FUN & GAMES
If you told your friends you were going to a festival full of chilled out dudes drinking cannabis tea, they would probably think you'd got your hands on tickets for Glasto (or they'd suspect the onset of a mid-life crisis) - but you don't get camel racing, mock battles, and "longest moustache" competitions at Worthy Farm.

Many of our rides in India start by visiting a colourful fair or festival, providing an amazing insight into local life, as well as a huge contrast to the peaceful countryside you'll ride through afterwards.

Top: the Holla Mohalla Fair; Bottom: the Pushkar Camel Fair
FASCINATING FACT: One of our RWW riders (who shall remain anonymous) got rather carried away at the Nagaur Fair a few years ago and entered into lengthy negotiations with an Indian trader. A few hours (or days?) of haggling later, and he proudly declared that he had succeeded - but sadly he was unable to bring his hard-won prize home with him. It was a camel.
---
TENT PEGGING
Imagine trying to pick up a small block of wood by piercing it with a lance. From a horse. At a flat out gallop. Well, that's what "tent pegging" is, a historic military sport still practiced by the Indian cavalry.

Bonnie himself is a skilled tent pegger, and some of his horses have been trained for the sport. As you have probably guessed, the fast, agile and brave Marwari horses are ideally suited to this dare-devil competition. If you ask nicely, then you might get a demonstration - don't expect to be given a go though, you could have somebody's eye out.

Left: Bonnie Singh demonstrating tent pegging; Right: "Skinners Horse" by John Reynolds Gwatkin, circa. 1840
FASCINATING FACT: There are two rival stories to explain the origins of tent pegging. It's unlikely the truth will ever be known, so you may as well just pick your favourite - everyone else seems to.
Version 1: Stealthy Indian cavalrymen would gallop through a camp while their enemies slept, deftly whipping tent pegs from the ground with their lances, and causing the tents to collapse with the opposition trapped inside. You snooze, you lose.
Version 2: Tent pegging originated in the middle ages as a tactic against battle elephants. A cavalier would precisely stab an elephant's toenail, causing such rage that it would rear, unseat its mahout, then hopefully break ranks and run amok. (This version does beg the question - why isn't it called "elephant toenail stabbing" instead?)
---
Please contact us for more information at info@rideworldwide.com or call us on 00 44 (0) 1837 82544.