Uruguay
6, 8, 9 and 11 night rides, with different itineraries, run between October and December, and February to early May. Accommodation is in a mix of hotels, haciendas and farms, with camping at night on some itineraries.

Where In Rocha province, eastern Uruguay.

What is it like A small South American country that is unexpectedly diverse, Uruguay has fertile rolling grasslands that are ideal for cattle farming, large estancias where gauchos and horses continue to play a major role in day to day life and a wonderful coastline of unspoilt, sandy beaches. Overall it has superb and varied riding country. Taking you across a variety of estancias, over sand dunes and deserted beaches, through palm groves and past inland lakes teeming with wildfowl, these rides also include visits to historic Portuguese forts, nights in authentic working estancias and comfortable beachside hotels and a chance to see dolphins, black necked swans, parrots and capybaras (the giant guinea-pig like creatures of the South American wetlands). Added to this the company of friendly locals and skilled gauchos who tell you of their lives and traditions, make them a wonderful South American experience.

Who does it suit All rides are aimed at reasonably experienced riders, but there are several options to choose from depending on the time you have and also your accommodation preferences. With varied scenery and a mix of culture and countryside, these rides are a great choice if you want 'a little bit of everything'!

Why we love it Uruguay is an unexpected gem. With its mix of countryside, culture, coastline, colourful birds and exotic wildlife, its full of character and interest - as well as super South American horses.






SUMMARY
Riding: 5-7 hours a day
Horses: Uruguayan Criollo breed
Pace: moderate, with good chances to canter
Riding ability: intermediate riders and above
Weight limit: 90 to 95 kgs/ 14st 2lbs to 15 stone
Accommodation: private haciendas, posadas and 3* hotels, with some rides using simple camps
Group size: max 10
Season: October to December, late February to early May
Price: 6 night rides from USD 2250 (approx £1730) per person
HORSES & RIDING
Horses: Mostly the local Uruguayan Criollo breed. They are between about 14.2hh and 16hh, very well suited to the terrain and a responsive, forward going and thoroughly enjoyable ride. Tack is South American style with saddles similar to westerns, covered with a large sheepskin - very comfortable for long hours in the saddle. The horses are trained western style to neck rein and a relaxed riding style and relaxed contact with the horses' mouth is required. Saddle bags are available for personal belongings and pack horses or vehicles transport most equipment.

Hours: Usually between 4 and 7 hours riding a day, following routes through open grassland, palmgroves, rolling hills, sand dunes and along unspoilt beaches. Breaks for rests, lunch and sightseeing.

Pace and experience required: To take part in these rides you need to be a reasonably experienced rider. You should be comfortable, secure and in control on a well schooled horse at a walk, trot and canter and used to riding in open country and over varied terrain. A reasonably good level of general and riding fitness is required.
ACCOMMODATION
Accommodation varies with itinerary but is in a combination of hotels, lodges and estancias (ranches), with camps used on theRocha Expedition and Wild Rocha Rides. The Painted Bird and Ultimate Uruguay rides include a night at the beginning in Montevideo. Camping is in private mobile camps using simple 2 man dome tents. Hotels and estancias are comfortable and many have swimming pools. Rooms at the older traditional properties are all different and the level of facilities varies, but they offer a unique insight into country life on a working estancia. Bedrooms generally have private bathroom, with a shared bathroom on some rides if numbers require. Single rooms can be arranged on request.
RATES & DATES
Rates 2022


Rocha Expedition (6 nights) - USD 2350
Single supplement USD 270

Wild Rocha (9 nights) - USD 3450
Single supplement USD 370Atlantic Coast Rides:

Painted Bird Ride (8 nights) - USD 4485
Single supplement USD 595

Ultimate Uruguay Ride (11 nights) - USD 5995
Single supplement USD 950

Rates include - all riding, guiding and equipment, twin accommodation, meals from lunch on Day 1 to breakfast on the last day (except dinner on day 1 of Painted Bird & Ultimate Uruguay), meeting in Montevideo on Day 1 and return bus transfer to Montevideo on the last day.

Rates exclude - international flights to Uruguay, personal medical insurance (compulsory), dinner in Montevideo on the first night of Painted Bird & Ultimate Uruguay), personal expenditure such as your bar bills at the estancias, laundry or telephone calls, airport taxes, any visa fees or any tips you might wish to leave.

Prices are quoted in US dollars. Payments to us can of course be made in pounds sterling if you wish and we can give you a sterling rate at the time of booking.

Dates 2022-2023

Rocha Expedition (6 nights; with 5 nightscamping)
6th to 12th November 2022
18th to 24th December 2022
19th to 25th March 2023
7th to 13th May 2023

Wild Rocha (9 nights; with 5 nights camping)
16th to 25th October
28th November to 7th December
2nd to 11th March 2023
13th to 22nd April 2023

Painted Bird Ride (8 nights)
5th to 13th November 2022
26th November to 4th December 2022
4th to 12th March 2023
25th March to 2nd April 2023

Ultimate Uruguay Ride (11 nights)
13th to 24th November 2022
12th to 23rd March 2023

Other dates on request for groups
Average temperature guide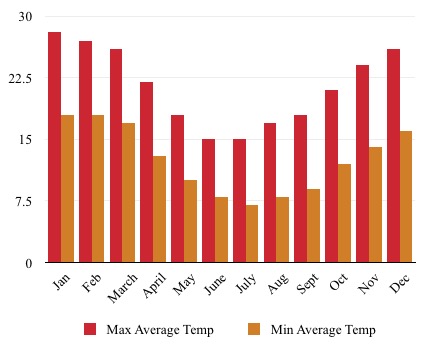 ITINERARY
Itinerary in brief - Painted Bird Ride (please enquire for other itineraries)

| | |
| --- | --- |
| Day 1 | Met on arrival in Montevideo and transferred to a boutique hotel. Dinner (own expense) and the night in a hotel in Montevideo. |
| Day 2 | Breakfast and transfer about 3 - 4 hours to Rocha province with its pristine beaches. Arrive at Coronilla where you stop for an "asado" lunch before a short transfer to meet the horses and Gauchos for an introductory ride. Return to La Coronilla where the night is spent in a hotel by the beach. |
| Day 3 | A short transfer to meet the horses then set off riding towards the Atlantic Coast. A picnic lunch close to the beach, then after a siesta and perhaps a swim in the sea, set off riding along the coast, 22km of deserted beaches. Arrive by horse to La Coronilla where a second night is spent. |
| Day 4 | A full day ride heading along deserted beaches of the Atlantic coast to Santa Teresa National Park. Picnic lunch and continue to Punta del Diablo. Dinner and the night Punta el Diablo. |
| Day 5 | Breakfast and a short drive to meet the horses then set off riding - heading inland through various ecosystems including palm forests and wetlands. A picnic lunch then ride on to Don Bosco where accommodation is simple but in an amazing setting. |
| Day 6 | Breakfast and continue riding through palm forests, heading back to the coast. A picnic lunch and the ride on to Valizas where the night is spent in a typical "rancho". Dinner at a local restaurant. |
| Day 7 | Set off riding to the beach and to the strange fishing town of Cabo Polonia, set among the sand dunes and only accessible in 4x4, walking or by horse. Lunch at a seafood restaurant then in the afternoon ride to the roadhead to meet the vehicles. Transfer to an estancia near Jose Ignacio for the night. |
| Day 8 | A full ride on the estancia, helping the gauchos with cattle work, then perhaps a short kayak tour before a typical lunch. In the afternoon ride to the beach, along the shores of the lagoon and ocean. Dinner under the stars and a second night at the estancia. |
| Day 9 | Breakfast and a morning ride to the town of Jose Ignacio. Lunch than say goodbye to the horses and gauchos. Afternoon transfer, via Punta del Este, to Montevideoarriving early evening. |
| | Contact us at info@rideworldwide.com or on tel (+44) (0)1837-82544 / 825440 for further information, detailed itineraries, dates and answers to questions. |
TRAVEL
The meeting point for these rides is Montevideo. Flights to Montevideo are usually either via Buenos Aires or via Sao Paolo, though one can also fly with one of the US airlines via North America. Rates vary with the season and airline but expect to pay between £850 and £950 per person for an economy return. Please call us if you would like further information on flights or for a quote. We would be happy to book flights for you (our ATOL number for flight bookings is 6213).