Chile ~ Patagonia, Torres del Paine
9 night rides run from late October to late March, using estancia and hosteria accommodation in Torres del Paine National Park, southern Chile
Where In the far south of Chile, exploring Torres del Paine National Park which is home to some of the most dramatic landscapes and scenery in the whole of South America
What is it like Open grassland and wild valleys lined with forest of southern beech and overlooked by the huge granite towers of the Paine Massif. Grey blue glaciers flow down from the southern ice cap, cutting their way through the mountains before crumbling into lakes which are a vivid turquoise-blue. Waterfalls tumble from the granite cliffs and Condors soar on thermals above the snow capped peaks. Herds of guanaco graze on the open plains, their hauting cries echoing off the craggy mountains. Its wild, windy and altogether wonderful!

Who does it suit Its one of those bucket list 'one day I will go to..' destinations and ideal for horses. The grassy plains make a superb setting for long canters and the backdrop is extraordinary. The riding style is South American so its 'get on and go' but go you can, covering many miles a day, so you need to be fit. You also need to be resilient (or at least a careful packer) to cope with constantly changing and sometimes challenging weather. Nights are in estancias, some private but most now operating as local hotels. They are warm and dry, some are in spectacular settings and whilst not 'boutique' offer a reasonably comfortable hikers' rest at the end of the day.

Why we love it Location, location, location, exhilaration, exhilaration, exhilaration - there's not much that compares. The National Park regulations and the remoteness of the location can make logistics seem clunky but every traveller should see this 'Uttermost Part of the Earth'. Its like riding through National Geographic




SUMMARY
Riding: 5-8 hours a day
Horses: locally bred Criollo and Chilean cross
Pace: moderate and varied, with good open going for long canters
Riding ability: suitable for intermediate to experienced riders
Weight limit: 95kg (15 stone)
Accommodation: simple estancias and lodges
Group size: maximum 10
Season: October to March
Price: 9 night ride from USD 5999 (approx £4610) per person
HORSES & RIDING
Horses: The horses are medium build cross breeds, generally Chilean Horse crosses or Criollo mix. Some have Percheron blood. They are bred locally on the surrounding estancias for working cattle and sheep and most range from about 14.2hh to 16hh. They are good natured and a sensible, responsive and enjoyable ride. You will ride differerent horses during the ride, changing as you visit different estancias. Saddles are Chilean style with a comfortable sheepskin on top. The horses are trained western style and are used to neck reining and a relaxed contact with the mouth. Groups are normally limited to a maximum of 8 guests with a local guide and horsemen.

Hours: There is generally 5 to 8 hours riding a day, riding out from your estancia or from estancia to estancia, with breaks for rests and lunch.

Pace and Riding experience; To take part you should have a reasonable amount of previous riding experience and a good level of general fitness. You should be comfortable and in control on a well schooled horse at a walk, trot and canter and used to riding in open country at a fairly fast pace. Experienced riders will have fun, energetic riding over good terrain. The horses include sensible, steady ranch-bred schoolmasters so less experienced riders can also particpate but you must be fit as hours and distances are long. The pace is varied with plenty of opportunities for good long canters; you must be able to stay the distance.
ACCOMMODATION
The first night of the set date itinerary is spent at a comfortable guesthouse in Puerto Natales. Other nights are at family run estancias (farms) in and around the National Park, either working estancias in comfortable guest rooms, or at estancias that have been converted to small hotels (hosterias). Rooms are generally twin bedded with private bathroom although on occasional nights bathrooms may be shared. Breakfast and dinner are served at your estancia or hotel and lunches are picnics en-route, either carried in saddle bags or where access allows, brought to meet you by vehicle.
RATES & DATES
Rates 2021

Valid until April 2021 (2021-2022 season dates & rates TBC)

Estancia Rides (9 nights)
USD 5999 per person (6-10 riders)
USD 6499 per person (4-5 riders)
USD 6999 per person (2-3 riders)
Single supplement UD 990

Rates include - all riding, guiding and equipment, twin/shared accommodation, meals, Park fees, vehicle transfers at set times with the group from Punta Arenas / Puerto Natales to the start of the ride and back.

Rates exclude - flights to Chile/Punta Arenas, drinks, personal medical insurance (compulsory), any visa fees and personal items such as tips etc.

Prices are quoted in US dollars. Payments to us can of course be made in pounds sterling if you wish and we can give you a sterling rate at the time of booking.

Dates 2021

Estancia Rides
2021-2022 season dates & rates TBC
Average temperature guide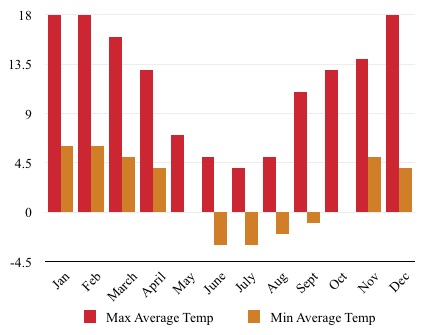 ITINERARY
Itinerary in brief - Estancia Ride.

| | |
| --- | --- |
| Day 1 | Arrive Punta Arenas. Transfer by private vehicle at 15.00 or bus, about two and a half hours, to Puerto Natales. Overnight Hostal El Establo (or similar) in Puerto Natales. |
| Day 2 | Take the boat from Puerto Natales north up Last Hope Sound to Balmaceda. Meet the horses for a short trial ride. Dinner and night Hosteria Balmaceda. |
| Day 3 | Breakfast and a long ride heading north, following the Serrano river. Night at Cabanas del Paine (or similar), Rio Serrano. |
| Day 4 | Today's ride takes you to Lago and Glacier Grey. Optional boat trip on the lake to the face of the glacier and transfer back to the hotel by car - or ride back to Rio Serrano, night at Cabanas del Paine, Rio Serrano. |
| Day 5 | Ride across the heart of the National Park, with great views of the granite peaks of the Paine mountain range. The are some good opportunities for long canters. Arrive at Laguna Amarga for dinner and night. |
| Day 6 | The ride today skirts Laguna Amarga to the authentic estancia Tercera Barranca. Dinner and night at this comfortable estancia. |
| Day 7 | Breakfast and transfer by car to Estancia Cerro Guido where you meet your final mount. Taking a picnic lunch, ride out into the remote baguales area where herds of wild horses can be found. Return to Estancia Guido for dinner and the night. |
| Day 8 | Breakfast and set off riding across the pampas southwards towards Estancia Entre Lagos. There are good opportunities for long canters. A picnic lunch and ride past Lake Sarmiento with dramatic views of the Paine Massif across the water. Dinner and night at Estancia Guido. |
| Day 9 | A full day ride with picnic lunch, riding to the deserted Estancia Flores, close to the Argentine border. Stop for a picnic lunch and in the afternoon ride back to Estancia Guido, crossing open pampa with good chances for long canters. A delicious barbecue dinner and night at Estancia Guido. |
| Day 10 | Breakfast and transfer to Puerto Natales for your onward journey. |
| | Contact us at info@rideworldwide.com or on tel (+44) (0)1837-82544 / 825440 for further information, detailed itineraries, dates and answers to questions. |
TRAVEL
The meeting point for the rides is Puerto Natales, gateway to Torres del Paine National Park, or you will be met in Punta Arenas at a set time on the first day. You will need to fly to Santiago, Chile's capital, then take an internal flight to Punta Arenas at the southern tip of Chilean Patagonia and from here transfer by bus or private transfer (at 15.00) to Puerto Natales. There are several flights from London to Santiago, generally departing in the evening and arriving Santiago the next day (e.g. British Airways have a direct flight from London; the Chilean airline LATAM flies via Madrid). There are 3 or 4 flights a day between Santiago and Punta Arenas. For flights from London budget around £1100 economy return (varies with the airline, season and availability).