Brazil
These rides take place in Coxilha Rica, a high plateau in the interior of the Southern state of Santa Catarina, a beautiful, diverse landscape and the heart of gaucho territory. The rides follow routes riding from fazenda (ranch) to fazenda and you are welcomed by friendly, music loving gauchos and their agile criollo horses. Rolling hills of open grassland and forested valleys stretch for miles and miles and the sense of vastness is inspiring. The hospitality of the region is exceptional and delicious barbecues and caipirinhas await you at every stop.

Rides are run from set dates or for private groups on request between September and April.




SUMMARY
Riding: 5-7 hours a day
Horses: Criollo, Criollo crosses, 'Manga Larga'
Pace: moderate, with good opportunities to canter
Riding ability: confident intermediate to experienced riders
Weight limit: up to 120 kgs (18 ½ stone) but please contact us just to check that a suitable horse / horses are available if you are over 95kg
Accommodation: simple fazendas, private farm houses
Group size: maximum 15
Season: September to April
Price: 7 night trail from USD 2980 (approx £2485) per person
HORSES & RIDING
Horses: The horses are local criollo, criollo crosses or 'manga larga' (another Brazilan breed). Most have been bred on the farms and are well schooled and used to cattle work so a responsive ride. An unusual addition to the herd are some "curly haired" horses. These horses are hypoallergenic meaning that they cause very little reaction / irritation to people who are usually allergic to horses. Saddles are South American style (very comfortable with big sheepskins). The horses are ridden in pelham bits with a loose rein and light hands. Saddle bags are provided as well as rainproof ponchos.

Hours: The riding is usually 4 to 7 hours a day, mostly full day rides with lunch on the way. On a couple of days a morning or afternoon ride takes you to the next fazenda and you may either ride out or relax at the fazenda for the rest of the day.

Pace and experience required: To take part in these rides you need to be a reasonably experienced rider. You should be comfortable, secure and in control on a well schooled horse at the walk, trot and canter and used to riding in open country and over varied terrain. You should have a reasonably good level of general and riding fitness.
ACCOMMODATION
Accommodation is in authentic working 'fazendas' (ranches) and some are beautiful colonial buildings with tiled roofs and stone courtyards. Rooms are simple, mostly twin / double, but some of the fazendas have 4 beds to a room and there are usually 2 or 3 bathrooms which are shared between the group.
RATES & DATES
Rates 2024


Gaucho do Brasil Ride USD 2980
Rates assume a minimum of 5 people
Small group supplement for 4 riders 650 per person
Small group supplement for 3 riders 800 per person

No single supplement is charged on the ride but please note that single rooms cannot be guaranteed.

Rates include - 7 nights twin accommodation, all riding, guiding, equipment, meals, and transfers from / to Florianopolis.

Rates exclude - international flights to Florianopolis, personal medical insurance (compulsory), any visa fees, your bar bill and any tips you wish to leave.

Prices are quoted in USD. Payments to us can of course be made in pounds sterling if you wish and we can give you a sterling rate at the time of booking.


Dates 2024


17th to 24th January 2024
3rd to 10th February 2024
5th to 12th March 2024
12th to 19th October 2024
9th to 16th November 2024

Other dates on request for groups - please enquire

Average temperature guide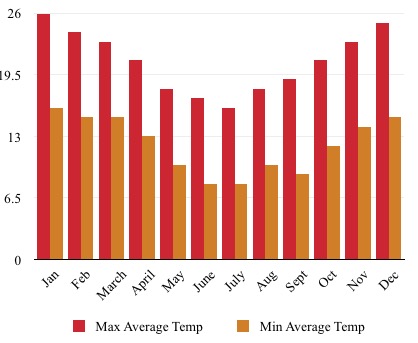 ITINERARY
Itinerary in brief - Gaucho do Brasil Ride
| | |
| --- | --- |
| Day 1 | Arrive Florianopolis airport. Met around midday and driven to a Fazenda near the town of Lages, about 3 hours drive. Dinner and night Fazenda da Chapada. |
| Day 2 | Breakfast and meet the horses. A long day riding as you set off through forest and open rugged country of the Coxilha Rica. Stop for lunch at Fazenda Ferradura and after a siesta ride on another 3 hours to Fazenda Rodeio Bonito where a delicious dinner awaits. |
| Day 3 | Breakfast and set off riding to Fazenda Dona Vera where caipirinhas and lunch are waiting for you. After a siesta ride on to the beautiful colonial Fazenda São João where the next 2 nights will be spent. |
| Day 4 | A full day based at Fazenda São João. You may help with some cattle work or ride out to the higher plateau for wonderful views of the Coxilha Rica. Lunch, dinner and the night at Fazenda São João. |
| Day 5 | A longer day today with about a 3 hour ride to Fazenda do Zago where you stop for a barbecue lunch. In the afternoon continue for another 3 hours across rivers and through forested valley and open pasture to Fazenda Lua Cheia for dinner and night |
| Day 6 | A relaxing morning, perhaps helping out with some cattle work or a short ride out. Then set off riding back to Fazenda Rodeio Bonito where the back up team will be waiting with tea, cakes and caipirinhas. Dinner and overnight at the fazenda. |
| Day 7 | Breakfast and a morning ride to Fazenda Ferradura. The afternoon to relax, or perhaps ride out again, returning for a farewell dinner accompanied by gaucho music and perhaps even dancing. |
| Day 8 | Breakfast and drive back to Florianopolis to arrive around midday for your onward journey. |
| | Contact us at info@rideworldwide.com or on tel (+44) (0)1837-82544 / 825440 for further information, detailed itineraries, dates and answers to questions. |
TRAVEL
The meeting place for the safaris is Florianopolis. There are direct flights from London to São Paulo with British Airways and TAM Brazilian airlines and from there onward flights to Florianopolis with TAM (or GOL, another Brazilian airline). Several other airlines such as Iberia have flights via Europe to São Paulo. For an economy return flight from London budget around £750 to £950.