Argentina ~ Patagonia Adventure with Jakob Von Plessen
7 night camp to camp rides, run from set dates in Argentina's summer months, November to February.

Where In northern Patagonia's Nahuel Huapi National Park, about 1000 kms south of Buenos Aires. The route explores the northern part of the National Park, north of Bariloche and the Nahuel Huapi Lake, between Lago Traful and Lago Falkner.

What is it like The Nahuel Huapi National Park is one of Argentina's oldest and most beautiful. Its landscape of snow capped mountains, turquoise rivers and lakes is superb and the northern area you ride through is pristine and untouched. Riding terrain varies from gentle grassy plains surrounded by high mountains, to harsh scree slopes and jagged rocks with breathtaking views. Nights are in a comfortable tented base camp, simple mobile 'fly' camps and a converted gaucho farmstead, blending safari-level comfort with traditional gaucho style.

Who does it suit Anyone wanting to see Patagonia's wilderness and experience its traditional gaucho lifestyle. If you've enjoyed the professionalism of an African safari experience, think of this as the South American equivalent! Jakob spent his 20s guiding riding safaris in Kenya before settling back in Argentina, bringing his safari expertise with him. He always had a taste for fun and adventure and these are adventurous rides but with a level of comfort that remote 'back country' trips usually lack. The pace is generally slow - you are riding in the mountains - but with rivers to negotiate, a high pass to cross and whatever else the day brings, you'll need plenty of riding experience and a steady head for heights. To enjoy Patagonia at its scenic and cultural best, this is the ride we'd choose.

Why we love it The area is jaw droppingly beautiful and these rides are an unbeatable mix of spectacular views, pumping adrenalin, superb hospitality, tremendous fun and that extra bit of gaucho style! Authentic gaucho with safari detail - the combination is spot on!




SUMMARY
Riding: 4-7 hours a day
Horses: locally bred Criollo and Criollo cross
Pace: moderate to slow due to terrain; slow in the mountains, some open going in valleys for canters
Riding ability: all abilities if reasonably fit. The local riding style is easy to learn and Argentine tack is comfortable for the less experienced rider but hours can be long and there's some challenging terrain so a reasonable level of fitness and some previous riding experience are required.
Weight limit: 95kg (15 stone); please contact us if you are near the limit
Accommodation: 5* & 3* camps
Group size: maximum 8
Season: November to March
Price: 7 nights from USD 5600 (approx £4305) per person
HORSES & RIDING
Horses: The horses are locally bred Criollo and Criollo crosses, some with Percheron blood. They are good natured, agile and sure footed; very well suited to the varied going and a responsive and enjoyable ride. Saddles are Argentine style with a comfortable sheepskin on top. The horses are ridden western style and are used to neck reining and relaxed contact with the mouth.

Hours: There is generally 4 to 7 hours riding a day, with breaks for rests and lunch.

Pace and experience required: A reasonable amount of riding experience is required and a good level of general fitness. You should be comfortable and in control on a steady horse at a walk, trot and canter, and used to riding in open, varied country. You should also have a good head for heights. Experienced riders will have fun riding over interesting, varied terrain but the horses include sensible, steady schoolmasters so the less experienced, who are fit and adventurous, can also participate. Overall the pace is slow although it varies. Its necessarily slow in the mountains but some open valleys allow a chance to canter most days.
ACCOMMODATION
Accommodation is in 3 or 4 different camps, with the ride following a figure-of-8-type route. 4 nights are at the comfortable 'base camp' which has 4 large, walk-in safari tents, set on teak decking, each with its own en-suite shower-room, with hot and cold running water and flush loo. Tents have proper beds made up with duvets and pillows and there is a central lodge where meals are eaten. 2 nights are in more simple 'fly' camps, with small 2 man tents and sleeping bags (provided) moved by pack horse, and one night is at another comfortable camp set up at a private gaucho homestead near the shores of Lake Traful. Single accommodation isn't generally possible. Meals are prepared for you with great care, often 'asados' - traditional gaucho style barbecues - of delicious Argentine beef or lamb, washed down with good, carefully chosen local red wine.
RATES & DATES
Rates 2022-2023


RATES (valid to March 2023)
USD 800 per person per night (6 or 7 nights)
INCLUDES all riding and equipment, services of English speaking guide, twin accommodation, meals (lunch first day to lunch last day), local drinks, services of back up team & grooms, transfers from and back to Bariloche as described.

The rate EXCLUDES international flights to Buenos Aires and internal flights (approx USD600 per person to Bariloche for Patagonia Adventure), personal medical / travel insurance (which you must have), any visa fees, optional activities such as fishing, personal items such as telephone calls and tips.

Shorter rides for private groups are sometimes possible. Rate is USD 900 per person per night, minimum 6 guests.

Single supplements are not charged but single accommodation cannot be guaranteed. If you would like to guarantee a single tent / room a supplement may be charged.

Prices are quoted in US dollars. Payments to us can of course be made in pounds sterling if you wish and we can give you a sterling rate at the time of booking.

Dates 2022-2023


Patagonia Adventure
November & December 2022 - currently full
19tht to 26th December 2022 - available for a private group, 6 to 8 people
January & February 2023 - currently full
2023-2024 dates TBC
Averagte temperature guide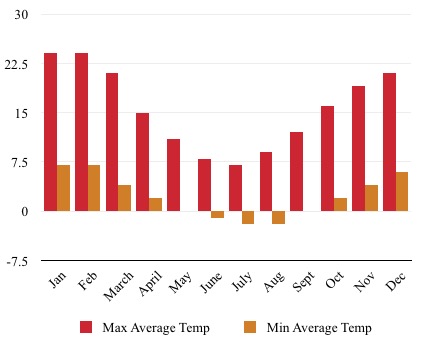 ITINERARY
| | |
| --- | --- |
| | Itinerary in brief - 7 nights Argentine Adventure |
| Day 1 | [Morning flight from Buenos Aires south to San Martin de Los Andes in the Argentine Lake District]. Met on arrival in San Martin and driven about 1 hour to Lago Falkner. Meet a boat to cross the lake and meet the horses, then a ride of about 2 hours to base camp, whilst your luggage is taken on ahead. Welcome drinks and a convivial dinner at the base camp in the Filo Huahum valley. |
| Day 2 | Breakfast before mounting up and heading off to explore the Filo Huahum valley and shores of the lake. Return to base for a delicious Argentine style 'asado' (barbecue) lunch and a siesta. In the afternoon, ride to another lake in the hills or you can take a walk, returning to base camp for drinks, dinner and the night. |
| Day 3 | Breakfast whilst pack horses are loaded with equipment for one night away from camp. Mount up and head off riding through Nahuel Huapi National Park. This is a long and exciting day, with the high point (literally!) riding the spectacular Pass of Tears. Night at a fly camp high in the Andean Cordillera. |
| Day 4 | Breakfast around the camp fire then pack up camp and set off on the way back to the base camp, riding a different route, with wonderful views of Buque mountain. Arrive back at base camp in the afternoon and a welcome hot shower before dinner and the night. |
| Day 5 | A relaxing day, perhaps with a morning ride helping gauchos round up horses or to visit a nearby estancia where traditional raw hide tack is made. Lunch and the afternoon to walk, swim or just relax in the glorious surroundings. A convivial gaucho style dinner and night in camp |
| Day 6 | Breakfast and set off with pack horses again, first riding along the lake shore and then climbing to the top of Cerro Bayo. A fly camp is set up with spectacular views over the volcanoes into Chile. |
| Day 7 | Breakfast and ride down to a private homestead, belonging to the family of one of the gauchos, on the shores of Lake Traful. A delicious barbecue and the night in a comfortable camp at the homestead. |
| Day 8 | Breakfast and a last ride to the beach where you board the boat that will take you across the lake to meet your transfer to Bariloche. Arrive Bariloche [in time for afternoon flight to Buenos Aires and onward travel]. |
| | |
TRAVEL
The meeting point for these rides is San Carlos de Bariloche in the Argentine Lake District. You will first need to fly Internationally to Buenos Aires, the capital of Argentina and then take a domestic flight to Bariloche. For flights from London to Buenos Aires budget around £800 to £1000 economy return (varies with season, carrier and availability). Domestic flights to Bariloche add approx USD 600 return although sometimes less if purchased in conjunction with your International flight.