Argentina ~ Patagonia, Estancia Huechahue
Family owned estancias - large farms and estates - some of which were established as far back as the 17th Century, have long been the backbone of Argentine country life. Today, as well as farming, many estancias open their doors to guests and a stay at one of these is a wonderful opportunity to experience Argentina's traditional way of living, as well as its lovely countryside, fantastic horses and warm hospitality.
Estancia Huechahue, which is in the Northern Patagonian Lake District about 1000 miles south of Buenos Aires, has earned a much deserved reputation as one of the best estancias for anyone wishing to ride. It is friendly, informal and wonderfully flexible and is also situated in one of the most scenically beautiful parts of the country. A typical itinerary at Huechahue will include days staying at the comfortable estancia, riding out each day through the vast Patagonian landscape of flat topped hills and huge open plains, visiting Indian burial caves that lie hidden amongst ancient rock formations or following rivers and streams that twist through rocky canyons. You might stop to watch condors soaring on the thermals, armadillo scuttling between the rocks and guanaco and red deer grazing on the plains, or visit the local Indian reservation where most of the tack is made. After all that, for a rest from riding, there are wonderful opportunities to fish, swim, raft down the river and simply relax! There is also plenty of cattle work at the estancia, helping gauchos round up cattle.

Dates / lengths of stay (minimum 3 nights) can be arranged to suit on request. During a week long stay it is possible to arrange a 3 day pack trip into the forests of the National Park with 2 nights spent camping out. These need to be booked in advance. Please contact us to discuss dates.




SUMMARY
Riding: 4-6 hours a day, tailored to suit
Horses: Criollo cross
Pace: moderate and varied; good chances to canter; slow on pack trips
Riding ability: confident novice to experienced riders
Weight limit: about 95kg (15 stone) but please contact us to discuss if you are 90kgs (14st 2lbs) or over
Accommodation: comfortable homestead/lodge (estancia); 2∆ camping optional
Group size: max 12
Season: October to early April
Price: 7 night stays from USD 3290 (approx £2530) per person
HORSES & RIDING
Horses: The horses are mostly Criollo (the local Argentine breed) and Anglo-Normand crosses. They are between 15hh and 16hh, and, having been bred and trained locally for working cattle, are strong and sensible yet also extremely responsive, athletic and forward going, so a real pleasure to ride. They are ridden western style and are used to neck reining. Saddles are Argentinean style, similar to a western or Maclellan style army saddle, with a comfortable sheepskin on top. The Estancia takes a maximum of 12 guests.

Hours: There is usually between 4 and 6 hours riding a day with breaks for rests and lunch, although hours are flexible.

Pace and experience required: Estancia Huechahue is a great choice for riders of various ability levels. As a minimum you must have some previous riding experience and be fairly fit. There are fun, forward going horses for experienced riders but also sensible, steady schoolmasters for the less experienced. Riding hours and the pace can be varied to suit with lots of opportunities for fast going although although in some areas rides are at a slower pace due to the terrain.
ACCOMMODATION
Accommodation is in eight twin-bedded guest rooms in three purpose built lodges set in the grounds of the main house, each with their own en-suite tiled bathroom. Meals are eaten in the dining room of the main house which is modern and comfortable.
If you decide on a pack trip into the pristine forests of the National Park then all camping equipment is carried by pack horses and camps are simple. 2 man tents are supplied and meals are cooked over a camp fire. There are no facilities, only streams and lakes to wash in.
RATES & DATES
2021 Rates TBC

2021 Rates TBC



2020 Rates
Estancia based stays & camping trips
USD 464 per night

Single supplement - single rooms are generally available for single travellers when at Estancia Huechahue for no extra charge - howeve supplements will be payable on the Estancia to Estancia Ride and also on Across the Andes Ride (please check before booking).

Rates include - all riding, twin accommodation (single rooms for single travellers if available), meals, drinks, guides. Minimum of 4 people required for Estancia to Estancia Rides.

Rates exclude - flights to Bariloche, transfers from / to Bariloche (or Chapelco, San Martin de los Andes), personal medical insurance (compulsory), any visa fees and extras such as tips, laundry etc. Prices are quoted in US dollars. Payments to us can of course be made in pounds sterling if you wish and we can give you a sterling rate at the time of booking.


Dates 2021


The estancia is open for guests between September and early April each year and dates are arranged to suit (minimum stay 3 nights); During a 7 night stay 3 day pack trips can be arranged on request.

Average temperature guide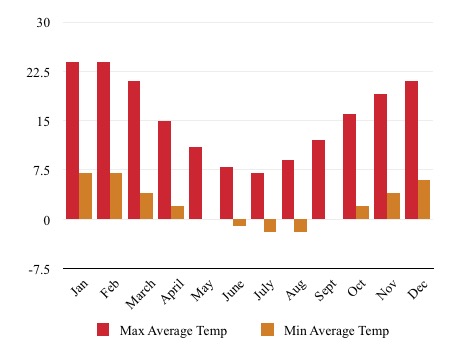 ITINERARY
| | |
| --- | --- |
| | Itinerary in brief - 7 nights |
| Day 1 | You will be met at Bariloche and driven to Estancia Huechahue. Lunch or tea when you arrive then meet the horses and a short afternoon ride to try them and the Argentinian tack, returning to the estancia for dinner and the night. |
| Day 2 | Breakfast, then set off on a full day ride to explore the estancia, stopping for a typical 'asado' barbecue lunch out riding. In the late afternoon return to the estancia for dinner and the night. |
| Day 3 | A morning ride to visit some Indian burial caves. Return to the estancia for lunch and perhaps an afternoon helping the gauchos, with some fast riding to round up cattle, or ride up to a view point where you can watch the condors coming to roost . Dinner and night at Huechahue. |
| Day 4 | Breakfast and ride into the neighbouring Indian reserve where much of the tack is made. There may be some bartering to do before drinking 'mate' with one of the families on the reserve. Then a picnic lunch by the river before riding back to the estancia. A chance for an evening fish is you wish before dinner. |
| Days 5-7 | Transfer about an hour to Lake Huechulafquen where you meet new horses and your guide Marcos. 3 full days riding through beautiful forests with stunning views of the snow capped volcanic peaks. Nights are spent in simple camps with all equipment carried by pack horses. Dinner under the stars around the camp fire. On the last day return to Huechahue to the comfort of a good bed and hot showers. |
| Day 8 | Breakfast and a farewell ride before transferring to Bariloche for your onward flight. |
| | Contact us at info@rideworldwide.com or on tel (+44) (0)1837-82544 / 825440 for further information, detailed itineraries, dates and answers to questions. |
TRAVEL
Meeting can be arranged at Bariloche airport (you can also be met at Chapelco airport, San Martin de los Andes, the closest airport to the Estancia). Bariloche has more regular flights and is about a two and a half hour drive away / Chapelco is 40 minutes. Transfer charges are approx USD 250 per vehicle from Bariloche; USD 80 per vehicle from Chapelco.
You need to fly to Buenos Aires, the capital of Argentina, then take an internal flight to Bariloche (or Chapelco). For flights from London to Bariloche budget from around £950 economy return (varies with season and availability).