Argentina ~ Cordoba, Estancia Los Potreros
Estancia Los Potreros is a 6,000 acre working cattle farm in the Province of Cordoba, north west of Buenos Aires.

The farm has been owned by an Anglo-Argentine family for four generations though it was inhabited long before that, as far back as the 1600's when mules bred at Los Potreros were used to carry silver from mines in Peru. Los Potreros is open to guests throughout the year (except in May) and Cordoba Province, which is known for its good climate - not too hot in summer (November to March) and generally dry and sunny in winter – is probably one of the most interesting historically in the whole of Argentina. A typical stay at Los Potreros will include riding out each day to explore the country that surrounds the 'Sierra Chicas', the oldest mountain range in South America. There is often cattle work with the gauchos and some weeks are set aside for informal polo tuition (ideal for anyone wanting an introduction to the game) and for the progressive Bellstone Rides which follow a route through the hills, staying in local farms, country hotels and occasionally camping (optional). There is also plenty to do when not riding. The estancia provides a wonderful insight into rural Argentine life and is also a good centre for exploring both the university town of Cordoba, the second largest in Argentina, and the surrounding area with its 17th century Jesuit churches, national Jesuit museum and interesting villages. At certain times of year there are cattle drives, local cattle sales, rodeos and round-ups to visit or you can walk in the hills, bird watch, taste locally grown wines, swim in rivers and waterfalls, or simply relax by the pool.

Dates and length of stay can be arranged to suit on request, year round except for May & June. Please contact us to discuss dates.




SUMMARY
Riding: 3-6 hours a day, or tailored to suit
Horses: Peruvian Paso, Criollo and farm bred crosses
Pace: varied, tailored to suit
Riding ability: all standards from novice to experienced riders; families welcome
Weight limit: about 95kg (15 stone) but please contact us to discuss if you are 83kgs (13st for Polo/Paso horses) or over
Accommodation: comfortable homestead/lodge, 2∆ camping optional
Group size: maximum 12
Season: year round
Price: 7 night stays from USD 2765 (approx £2125) per person
HORSES & RIDING
Horses: The horses are Peruvian Paso, Criollo and local cross-breds. They average about 15.2hh and are a comfortable ride, well mannered, responsive and sure footed. They are ridden western style and are used to neck reining. Saddles are English military saddles with comfortable sheepskins available for those who wish. The Estancia takes a maximum of 12 guests.

Hours: There is usually about 4 to 6 hours riding a day with breaks for rests and lunch, although hours are flexible and tailored to suit. Overnight excursions can be arranged on request, as well as longer expeditions.

Pace and experience required: These rides suit riders of various ability levels. As a minimum you must have some previous riding experience and be fairly fit. You should be comfortable and in control on a well schooled horse at a walk, trot and canter and used to riding in open country. Experienced riders will have responsive forward going horses and fun riding but there are also sensible, steady schoolmasters, and riding hours can be adjusted, for less experienced riders. The pace is varied with opportunities for canters and some slower days.
ACCOMMODATION
Accommodation is normally in one of two farm-houses on the Estancia. Rooms are traditionally decorated and preserved as much as possible in the original colonial style with tiled floors, rugs and original furniture and fittings. Bedrooms have wood burning stoves to take the chill off the mountain air and most have en-suite bathrooms (with either bath or shower) - fittings are from another era but it all works and there is plenty of hot water! Meals are eaten in the dining room of the main house.
RATES & DATES
Rates 2021


Estancia based stays 2021
1st January to 30th April & 1st October to 31st December
3 to 6 nights: USD 490
7 nights or more: USD 440

1st July to 30th September (NB closed May & June)
3 to 6 nights: USD 440
7 nights or more: USD 395

Polo Weeks 2021 (7 nights) - USD 3405 per person

Single room supplement is 30% extra - single rooms are subject to availability; no supplement is charged if you are prepared to share a room with another guest if necessary

Rates include - all riding, twin accommodation (single rooms for single travellers only if available), meals, drinks, guides, camping trip into the hills if required, equipment and transfers from / to Cordoba airport.

Rates exclude - flights to Buenos Aires / Cordoba, personal medical insurance (compulsory), any visa fees and extras such as tips, laundry etc.

Prices are quoted in US dollars. Payments to us can of course be made in pounds sterling if you wish and we can give you a sterling rate at the time of booking.

NB The above rates apply to all guests who reside outside Argentina and hold a non-Argentinian passport. If you are an Argentinian passport holder, please contact us for the applicable rates.

Dates 2021


Estancia based - on request, year round except May & June
(minimum stay 3 nights; 5 nights over Christmas / New Year
& Easter period)

Bellstone Rides (7 nights) - on request

Polo Weeks 2021
2nd to 9th March
5th to 12th October
9th to 16th November

Other dates on request for groups
Average temperature guide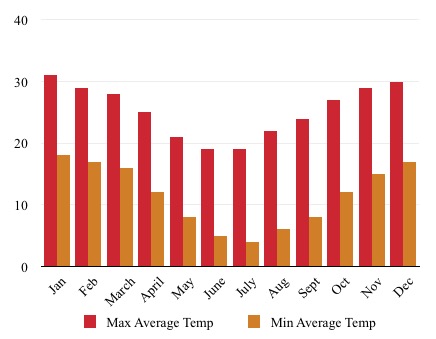 ITINERARY
| | |
| --- | --- |
| | Itinerary in brief - 6 nights |
| Day 1 | You will be met at Cordoba airport and driven about an hour to Estancia Los Potreros. Lunch or tea when you arrive, meet the horses and a short afternoon ride to try them, returning to the estancia for dinner and the night. |
| Day 2 | Breakfast, then set off on a full day ride to explore the estancia, stopping to swim in a mountain stream and for a picnic or typical 'asado' barbecue lunch. In the late afternoon return to the estancia for a refreshing dip in the pool or perhaps some wine tasting at the local vineyard, before dinner and the night. |
| Days 3-6 | Morning, afternoon or day rides of 3 to 6 hours exploring the estancia and surrounding country, riding up onto the tussock grass 'planos', through rocky valleys and forests of acacia scrub where fox and hare are often seen. You might also catch a glimpse of shy wild boar, deer or even puma and can watch the brightly coloured humming birds that flit through the trees, the eagles and giant condors that soar on the thermals. A night camping out if you wish and your choice of walks in the hills, visits to local villages, the Jesuit museum, churches and the University town of Cordoba and in the summer there is plenty of time to relax by the pool. |
| Day 7 | Breakfast and a final farewell ride before transferring to Cordoba for your onward flight. |
| | Contact us at info@rideworldwide.com or on tel (+44) (0)1837-82544 / 825440 for further information, detailed itineraries, dates and answers to questions. |
TRAVEL
The meeting point for the rides is Cordoba airport. You need to fly to Buenos Aires, the capital of Argentina, then take an internal flight to Cordoba, the closest airport to the Estancia. Alternatively you can fly to Santiago in Chile and from there to Cordoba. For flights from London budget around £750 to £1000 economy return (varies with season and availability).