Mexico
7 or 8 nights in the central highlands, riding from place to place, staying in local ranch, small hotels and occasional camps, available July to January.

These rides take place in Guanajuato Province in the Central Highlands of Mexico. This area is full of history and colour and the province's capital, Guanajuato, is a beautiful colonial city with a thriving university and wonderfully friendly Latin American ambience. Rides start from a small ranch close to Guanajuato and follow different linear routes through the mountains, passing old silver mines and following the ancient Spanish-built "royal" roads ('Camino Reales') and the 'Silver Road' (Ruta de la Plata). Nights en-route are in small hotels in local towns, camping or in ranches along the way and a back up vehicle takes luggage from place to place. Rides are run from set dates for 7 or 8 nights.




SUMMARY
Riding: 5-8 hours a day
Horses: Aztecas, Mexican criollo, Quarterhorse crosses
Pace: slow to moderate, due to the terrain
Riding ability: strong intermediate riders and above
Weight limit: 100 kg (15st 10lbs)
Accommodation: 2* & 3* hotels, ranches & mountain refuge (4 nights camping on one itinerary)
Group size: maximum 12
Season: July to January
Price: 8 night trails from USD 1875 (approx £1440) per person
HORSES & RIDING
Horses: The horses are local Mexican breeds, Aztecas, Mexican criollos and Quarterhorse crosses, averaging about 15.2hh. They are ridden in the local Western style (so are used to neck reining) and using Mexican (western) style tack. They are sure-footed, responsive and used to a light contact with the mouth. There is enough variety to offer an enjoyable ride for both intermediate and experienced riders. Riding groups are limited to a maximum of 12 guests.

Hours: There is usually between 5 and 8 hours riding a day, following routes through the hills and forests, with breaks for rests, lunch and sightseeing.

Pace and experience required: To take part in these rides you need to be a reasonably experienced rider who is comfortable, secure and in control on a well-schooled horse at a walk, trot and canter, used to riding outside in open country,with a group of horses, over varied terrain. You should also have a reasonably good level of general and riding fitness.
ACCOMMODATION
Accommodation is varied and depends on the itinerary you choose. The first night of most rides is spent at the ranch where the horses are based, which has simple rooms and shared bathrooms. On the Silver Trail, most other nights are at small hotels of a 2* to 3* standard, chosen as far as possible for their character and position. Rooms are comfortable with their own bathroom. On the Central Highlands Ride, 4 nights are spent camping out, using 2 man "dome" tents for sleeping and with a basic shower tent and central mess tent in camp. One night of both itineraries is in a remote region where you will stay in a mountain refuge where some rooms are dormitory syle and bathrooms are shared. Riders on the Cristo Rey Pilgrimage stay in small hotels and haciendas, with one night camping out.
RATES & DATES
Rates 2021
Silver Trail (7 nights) - USD 2350
single supplement - USD 435

Central Highlands Ride (8 nights) - USD 1875
single supplement - USD 210

Cristo Rey Pilgrimage (8 nights) - USD 2950
single supplement - not usually possible

Rates include - all riding, guiding and equipment, 7 or 8 nights twin accommodation, meals and collection from and return to Guanajuato or Leon as a group at set times on day 1 / day 8 or 9.

Rates exclude - international flights to Mexico, personal medical insurance (compulsory), drinks / your bar bill, any visa fees and personal items such as tips, laundry etc.

Prices are quoted in US dollars. Payments to us can of course be made in pounds sterling if you wish and we can give you a sterling rate at the time of booking.

Dates 2021

Cristo Rey Pilgrimage (8 nights)
3rd to 11th January

Silver Trail (7 nights)
20th to 27th January
7th to 14th July
4th to 11th August
1st to 8th September
6th to 13th October
1st to 8th December

Central Highlands Ride (8 nights)
19th to 27th January
16th to 24th August
20th to 28th September
18th to 26th October
Average temperature guide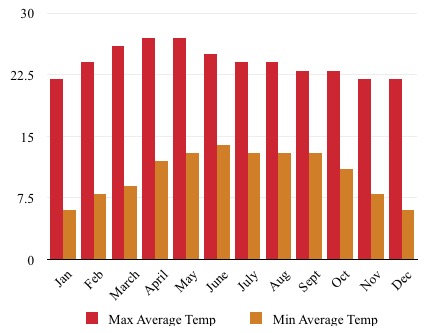 ITINERARY
Itinerary in brief - Silver Trail (please enquire for other itineraries)
| | |
| --- | --- |
| Day 1 | Met in Guanajuato city at 17.00 then a 40 minute drive to the ranch base. Welcome cocktails, dinner and the night. |
| Day 2 | Set off riding along trails that take you into the nearby mountains. The scenery is reminiscent of an old western film, with its cacti and arid terrain. Stop for a picnic lunch near the ruins of a 400 year old hacienda. In the afternoon ride on to a small village where the horses spend the night. Transfer to Guanajuato, dinner and night at a hotel. |
| Day 3 | Breakfast and head back to meet the horses. The ride today takes you high into the mountains, stopping for lunch at a simple village restaurant and continuing to a remote mountain refuge where the night is spent. |
| Day 4 | Today is a long day, covering around 37km, as you head towards the town of Dolores Hidalgo. Meet the back up team for a picic lunch and in the afternoon ride onto the outpost of an old hacienda where the horses stay. Transfer to Dolores Hidalgo for dinner and the night in a hotel. |
| Day 5 | A fascinating ride, crossing by horse the town of Dolores Hidalgo, famous as the starting point of the 1810 independence rebellion, and birth place of Jose Alfredo Jimenez (Mexican singer-songwriter). Stop in the central sqaure to see the church and then continue to a stables on the edge of town where the horses stay. Transfer back to town for lunch and the afternoon to explore. |
| Day 6 | The ride today takes you through a valley of cactus, and then over the hills, meeting the back vehicle for a picnic lunch. In the afternoon continue to the lovely town of Atotonilco with imposing XVIII Century church. Night at a hotel close by. |
| Day 7 | Breakfast and set off on the last riding day, following the River Laja towards San Miguel de Allende, one of the most fascintating towns in Mexico. The route is through semi-desert and wetlands close to the river, passing villages with their "Indian chapels". Stop near a small chapel where lunch is cooked by local families. Say goodbye to the horses and team, then transfer to San Miguel de Allende for dinner and the night. |
| Day 8 | Breakfast and onward travel (extra nights in San Miguel de Allenda can be arranged). |
| | Contact us on 01837-82544 for further information, detailed itineraries, dates and answers to questions |
TRAVEL
The meeting point for most rides is Guanajuato City. There are direct flights to Mexico from London with British Airways, Aero Mexico and also flights with KLM via Amsterdam and with several US airlines via the States. From Mexico City there are regular onward flights to Leon Guanajuato (BJX). There are also flight to Guanajuato from several US regional airports. For flights from the UK budget around £700-£900 economy return (fares vary with the airline and season).