Romania
6 nights, riding from place to place staying in rural and village guesthouses, available April to November. Suitable for intermediate riders and above.

Where In Transylvania, in central Romania, not far from the town of Brasov. Rides are organised from stables at Korospatak, which was the centre of the Kalnoky family's country estate, owned by Count Tibor Kalnoky and his wife Anna.

What is it like A trip back into the past, to a wonderfully unspoilt horse-drawn rural society that has scarcely changed in generations. The region you visit is Sekler country, an area settled by the Hungarian army centuries ago, where Hungarian is still the most widely spoken language. It is rural, open and unspoilt with forested hills that ar still home to bears, wolves, deer and a great variety of birds. The region has some wonderful medieval Saxon villages established in the 14th and 15th Centuries and it is easy to add a day or two before of after riding to visit some of these.

Who does it suit Riding is aimed at confident intermediate riders. Routes are across country, riding from village to village so there is a fixed distance to cover each day and the area is rural and unsophisticated. You need to embrace simple living, varied weather and limitations of a slow-paced rural lifestyle. There's a good mix of horses to suit riders of different abilities and non-riders are welcome to join on a self-drive (or self cycle) basis, meeting riders in the evenings, or staying at the main base where there are opportunities for walking, birdwatching and some relaxed sightseeing.

Why we love it A chance to see rural Romania before it catches up with the 21st Century! And what better way than on a horse, with very few fences or tarmac roads, open grassy meadows and peaceful country scenes that are like stepping back in time.





SUMMARY
Riding: 4 to 6 hours riding a day
Horses: Arab crosses, Huzul cross and other local crossbreeds
Pace: moderate, sometimes slower due to terrain but chances for some good canters on most days
Riding ability: intermediate and above
Weight limit: 90 kg (14st 2lbs)
Accommodation: rural guest houses
Group size: max 8
Season: April to October
Price: 6 night trails from 1375 Euros (approx £1250) per person

HORSES & RIDING
Horses: Locally bred and characteristic of the area. Mostly crossbreeds including Hungarian Gidran crosses, Arab crosses, Semigreu (a Lipizzaner-Ardennes cross) some locally bred Lipizzaners, and Huzuls, a historic and robust breed unique to the Carpathian mountains. They range from around 14.2hh to 16.2hh and are sensible and well-adapted to the terrain. English general purpose and endurance saddles are used and saddle bags are provided. Most of the horses are ridden in snaffle bridles, with a few in Pelhams. Rides are normally limited to a maximum of 8 guests.

Hours: There is usually between 3 and 6 hours riding a day, broken up with rest stops and a break for lunch.

Pace and experience required: These rides are for intermediate riders and above. The horses are spirited but well behaved. The pace is moderate overall and there are good chances for trots and canters every day.
ACCOMMODATION
Accommodation is quite varied and you will stay in traditional villages and rural guesthouses, which give a really good feel for local life. On the Transylvanian Ride, the first and fourth nights are usually spent at Miklósvár staying in village guesthouses which have been re-stored and converted with attention to detail under the expert eye of your hosts, Count and Countess Tibor and Anna Kalnoky. The last 2 nights are generally in a typical Transylvanian farmhouse belonging to HRH Prince of Wales at Zalánpatak, which has been restored in similar fashion and the remaining two nights are spent in rural villages, staying in local 'B&Bs', usually with a family. These are simple but clean and well maintained. Rooms are usually twin bedded (sometimes triple) but bathrooms are often shared between the group or two rooms. We cannot guarantee single rooms but if you would like one, please let us know when you book and we will do what we can - a single supplement will apply and you may be asked to share on a one or two nights where rooms are very limited.

RATES & DATES
Rates 2022

Transylvania Ride (6 nights) - Euros 1375 / High season Euros 1610
NB There may be a small extra charge if transfer prices increase

Rates include - 6 nights shared accommodation, all riding (5 days on Transylvania Ride), guiding, equipment, meals (not drinks), and transfers from / to Bucharest by private vehicle (based on 2 or more travelling together).

Rates exclude - International flights to Romania and taxes, personal medical insurance (compulsory), visa fees, any drinks / your bar bill, extra sightseeing during the ride and any tips you wish to leave.

Single rooms cannot usualy be guaranteed but can be requested. For available nights there is a charge of 30 euros per night, payable locally.


Dates 2022

* = High Season

Transylvania Ride
18th to 24th September 2022
9th to 15th October 2022
23rd to 29th October 2022

9th to 15th April 2023
23rd to 29th April 2023
7th to 14th May 2023*
21st to 27th May 2023*
4th to 10th June 2023*
18th to 24th June 2023*
2nd to 8th July 2023
16th to 22nd July 2023
30th July to 5th August 2023
13th to 19th August 2023
27th August to 2nd September 2023
10th to 16th September 2023
24th to 30th September 2023
8th to 14th October 2023
22nd to 28th October 2023

Average temperature guide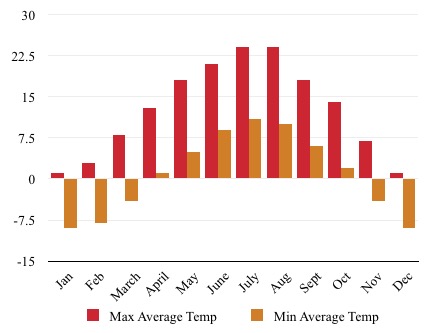 ITINERARY
Itinerary in brief - Transylvania Ride

| | |
| --- | --- |
| Day 1 | Arrive Bucharest airport and transfer by private vehicle to Miklosvar. Meet your guide for dinner, overnight at Miklosvar guesthouse. |
| Day 2 | Transfer to the riding centre at Sepsikorospatak and meet the horses. Set off riding north up onto a ridge with magnificent views of the high Carpathian mountains. Pass traditional villages and meet shepherds and their flocks in the high pastures. Descend through the forest to the village of Malnas Bai where the night is spent. |
| Day 3 | Ride in a north-westerly direction into the forests of the Hatod region where you may see bear tracks along the quiet forest paths. Picnic lunch then descend gentle grassy slopes to the villages of Batanii (Big Bacon and Little Bacon) where the night is spent in village houses. |
| Day 4 | Continue riding south west along gentler slopes, with good chances to canter, and into the Olt river valley to reach Miklosvar where the night is spent in the Miklovar guesthouse. |
| Day 5 | Ride east today through forested hills and valleys to reach Zalanpatak. The night is spent in a typical farmhouse, usually one that belongs to HRH Prince of Wales. |
| Day 6 | Breakfast and set off on the final ride, heading back to the stables at Sepsikorospatak stopping for a picnic lunch en-route. Say goodbye to the horses and transfer about 40 minutes by vehicle back to the same accommodaiton in Zalanpatak for dinner and your final night. |
| Day 7 | Breakfast and transfer by car to Bucharest airport (4 to 5 hour drive) arriving in time for your return flight. |
| | Contact us at info@rideworldwide.com or on tel (+44) (0)1837-82544 / 825440 for further information, detailed itineraries, dates and answers to questions. |
TRAVEL
You will need to fly to Bucharest for this ride and you will be met and transferred from there. Romanian Airlines (Tarom) or British Airways both fly daily direct from London Heathrow to Bucharest with fares from around £300 per person return including tax. Easy Jet, Ryan Air, Blue Air and Wizz Air also fly from regional UK airports to Bucharest.

The cost of transfer between Bucharest Otopeni airport and the start / end of the ride at Miklósvár / Zalánpatak are included in the price above, assuming 2 or more guests travelling together. If just one person is travelling, there will be an extra charge of approximately 195 Euros.