Italy ~ Sicily
7, 6 and 4 nights in north east Sicily, riding from guesthouse to guesthouse or from one guesthouse base, available April to November. Suitable for intermediate riders and above.

Where In the north-eastern corner of Sicily. Rides start close to the Madonie National Park from a base near the small town of Castelbuono, about 1 1/2 hour's drive east of Palermo and 1 1/2 hours north-west of Catania.

What is it like Two 7 night itineraries are offered from set dates with a shorter 5 night option for those with less time. The 7 night Transiciliana Ride follows a wonderful place-to-place route through the Madonie and Nebrodi National Parks, then into Mount Etna National Park, with the last riding day climbing the slopes of the volcano itself. The 7 night Madonie Ride and the Madonie short break are more flexible, starting from an 'agriturism' guesthouse close to Castelbuono, with some nights in other guesthouses and simple lodgings. Once a year a ride co-incides with the Canedda pilgrimage which many locals still make by horse.

Who does it suit Confident riders who want to discover rural Sicily, with the Transiciliana Ride ideal for those who love a place-to-place ride that feels like a proper 'journey'. It gives a superb overview of the area, visiting small hotels and 'agriturism' guesthouses, crossing 3 very different national parks and finally climbing Etna itself. Gentle horsemanship means relaxed horse which are very biddable but also keen, there is some lovely going on long winding tracks and local agriturisms mean delicious rustic food, zero food-miles, home grown wines and a real sense of what Sicily is about. The mountains in the Madonie National Park are higher and steeper so there is some slow, tricky going to negotiate here.

Why we love it For the surprise of Sicily's open, rolling countryside and sense of space when we imagined it to be more about atmospheric towns. For the atmospheric towns and villages, for the tremendous feeling of 'journey' with Etna always on the horizon beckoning you forward. Because we love rustic Italian food and wine, served with love.




SUMMARY
Riding: 4-6 hours a day
Horses: Sicilian homebreds, Arab crosses
Pace: moderate overall, varied due to terrain
Riding ability: intermediate to experienced riders
Weight limit: 90kg (14st 2lbs)
Accommodation: comfortable hotels & guesthouses
Group size: max 12
Season: February to November
Prices: 7 night trails from 1505 Euros (approx £1365) per person

HORSES & RIDING
Horses: The horses used for the rides are mostly locally bred Sicilian breeds and Arab crosses, around 14.2hh to 16hh. They are responsive, sure footed, at home in the mountainous terrain and trained using a natural horsemanship technique. Comfortable trekking saddles are used with both cruppers and breastplates and saddlebags are provided. Rides are run for a maximum of 10 or occasionally 12 guests.

Hours: There is between 4 and 6 hours riding a day with breaks for rests and lunch. Hours on the Madonie Rides can be tailored to suit on request

Pace and experience required: These rides are for intermediate riders and above. You must be comfortable and secure at a walk, trot and fast canter on a well schooled horse and used to riding outside, with a group of horses, in an open environment, over varied terrain. The pace of the rides is moderate overall; there are usually plenty of chances to move on although in the mountains (Madonie area particularly) riding is often slow due to the ground. The Transiciliana Ride includes the most chances for longer canters
ACCOMMODATION
Accommodation is in village and country hotels, B&Bs and guesthouses of 2* to 3* standard. Several are family run, often with a good restaurant emphasising rural Sicilian food, most have en-suite rooms and some have a swimming pool. On the Madonie Rides one night is usually in a simple mountain refuge, sleeping in dormitory rooms on camp beds.
RATES & DATES
Rates 2023


Transiciliana Ride (7 nights) - Euros 2000 per person
Etna Ride (4 nights) - Euros 1625 per person
Cannedda Pilgrimage Ride (6 nights) - Euros 1645 per person
Madonie Ride (7 nights) - Euros 1505 per person

Rates include - all riding, 7 (6 or 4) nights twin accommodation, meals, house wine with dinner and group transfers from / to Palermo or Catania airport (depending on itinerary NB: group pick up / drop off point varies with itinerary) at set times.

Rates exclude - international flights and tax, supplements for a single room or special transfer, personal medical insurance (compulsory), extra drinks (eg beer & spirits), any visa fees, personal items at hotels and any tips.

Single rooms can usually be booked for a supplement of 25 to 35 Euros per night. Please ask for details

Prices are quoted in Euros. Payments to us can of course be made in pounds sterling if you wish and we can give you a sterling rate at the time of booking.

Dates 2023

Transiciliana Ride (7 nights)
9th to 16th September 2023
23rd to 30th September 2023
7th to 14th October 2023
21st to 28th October 2023
4th to 11th November 2023
11th to 18th November 2023
30th March to 6th Aptil 2024
13th to 20th April 2024
27th April to 4th May 2024
11th to 18th May 2024
25th May to 1st June 2024
7th to 14th September 2024
21st to 28th September 2024
5th to 12th October 2024
19th to 26th October 2024
2nd to 9th November 2024
9th to 16th November 2024

Etna or Madonie Short Rides (4 nights)
18th to 22nd September 2023
16th to 20th October 2023
30th October to 3rd November 2023
8th to 12th April 2024
21st to 25th April 2024
6th to 10th May 2024
19th to 23rd May 2024
3rd to 7th June 2024
16th to 20th September 2024
29th September to 3rd Ocotber 2024
14th to 18th October 2024
27th to 31st October 2024

Cannedda Pilgrimage (7 nights)
1st to 7th September 2024

Madonie Summer (one base)
One base rides, 5 to 7 nights on request between 1st & 31st July 2024

Other dates arranged on request for private groups. Please contact us to discuss.
Average temperature guide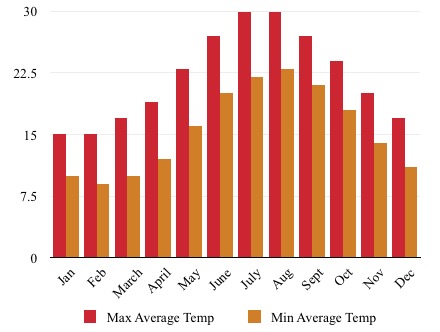 ITINERARY
Itinerary in brief - Transiciliana Ride. Please enquire for other itineraries.

| | |
| --- | --- |
| Day 1 | You will be met at Catania airport and driven about 1 ½ hours to a B&B in small town of Petralia Sottano. Meet your hosts, time to relax and then dinnner. Night Petralia Sottano |
| Day 2 | Breakfast, meet the horses and a short briefing before mounting up to ride out into the countryside. Stop for lunch and ride onto Villa Raino (or similar) close to the town of Gangi. Dinner and night |
| Day 3 | Long morning riding following a dry river bed and mountain tracks to Sambuchetti - Campanito Natural Reserve. Ride through oak forest and stop for a picnic at the far side then ride on after lunch across typical countryside to agriturism Monte Soprano for dinner and night. |
| Day 4 | Breakfast and ride on to Caprizzi, a small town at the gates of the Nebrodi National Park. Quick stop at the town then climb through beech forest, stopping for sandwich pinic (a vehilce cannot reach you today). Ride on after lunch and finally arriave at Villa Miraglia for dinner and night. |
| Day 5 | Ride across lovely mountain terrain with views of four lakes and towering Etna on the sky line. Picnic lunch in the forest and the afternoon takes you to a forest refuge where the horses stay, Short drive to hotel Fulcina del Volcano for dinner and night. |
| Day 6 | Breakfast, return to the horses and a shorter riding day today, heading down the valley between Nebrodi and Etna National Parks, through the Gurrida Lake Reserve. Lunch and in the afteroon leave the horses in a paddock and short drive back to hotel Fulcina for dinner and night. |
| Day 7 | Breakfast and the ride today follows the grey volcanic ash tracks that circumnavigate and finally take you up Mount Etna, perhaps riding as far as the Observatory (the route always depends on the weather) before heading down to a small chalet style hotel, Rifugio Ragabo, where the night is spent. Farewell to the horses and guides who will drive them back home, before dinner and your final night. . |
| Day 8 | Breakfast and group transfer back to Catania airport for onward flights |
| | Contact us at info@rideworldwide.com or on tel (+44) (0)1837-82544 / 825440 for further information, detailed itineraries, dates and answers to questions. |
TRAVEL
The meeting point for the Transiciliana Ride and Cannedda Pilgrimage Ride is Catania airport.
The meeting point for both Madonie Rides is Palermo airport.
In both cases you should aim to arrive at the respective airport before 14.00 on the first day to make use of the group transfer.
On the return one group transfer will be arranged back to the respective airport in time for the first flight of the group (usually mid morning).
Transfers outside the set times can be arranged for an extra charge.