France ~ Pyrenees & Pays Basque
4 and 5 nights riding from place to place in the French Basque country and northern Spain. Available April to October with set dates for different routes. Suitable for intermediate riders and above

Where Exploring the Basque country of the western Pyrenees in south-west France, and the Rioja, Navarra and Aragon regions of northern Spain

What is it like We like to think of these rides as exciting opportunities to join your French guide, Emmanuel, on an exploration of the border country . Some rides are based around his home village of Sare in south-west France; others head across the border into Spain to explore the River Aragon, Sos del Rey and the Bardenas Desert in Navarra. The essence of the latter in particular, rather than a finely tuned hour-by-hour itinerary, is 'map, compass and the spirit of adventure!'. Emmanuel is a bi-lingual professional riding guide who was brought up in the area and spent his youth exploring by horse. He instills confidence, and he and his wife Sylvie are delightful, interesting companions who bring together insiders' knowledge, enthusiasm, a love of good local food and wine, nature, history, architecture and above all, well-loved, well-schooled horses.

Who does it suit Anyone who wants to get 'under the skin' of this part of France & Spain, who can put themselves in the hands of their guide and has a spirit of discovery. Don't expect a detailed plan; expect good horses, interesting companions, good local food, good local wines and to really get to know the area you are in

Why we love it We love travel that lets you get to know where you go. Its like visiting friends who know a really good local restaurant, the best view in town, what to order, what to see and where to go - and if they don't know, Sylvie and Emmanuel are great company to find out with!





SUMMARY
Riding: 5-6 hours a day
Horses: local cross breeds
Pace: slow to moderate
Riding ability: intermediate and above
Weight limit: 95kg (15 stone)
Accommodation: 2* & 3* village hotels, guesthouse & Chambres d'Hotes
Group size: maximum 10
Season: April to October
Price: 5 night trails from 1485 Euros (approx £1280) per person
HORSES & RIDING
Horses: Locally bred, mixed blood cross breeds, ranging between about 14.2hh and 16.2hh. They are well kept, well-mannered and forward going and responsive to ride. English style saddles are used and most horses are ridden in hackamores. They are used to a light contact with the mouth and go well on a relaxed rein.

Hours: Usually about 5 to 6 hours a day - broken up with stops for drinks, lunch and to stretch your legs.

Pace and experience required: Riding at a leisurely pace overall, with routes taking you through mountains and along narrow tracks. Some days are fairly slow, mostly walk and trot, but where the terrain allows there are usually good opportunities to trot and canter (you will be asked not to overtake the guide). All aimed at reasonably competent riders but as the horses are sensible and well-mannered and the pace isn't fast, they also suit confident riders of an intermediate ability. You will be spending quite a bit of time in the saddle on consecutive days, so will enjoy your holiday much more if you are reasonably riding fit - practice regularly in the months before you go. Some help required lightly grooming, tacking up and untacking your horse so you should be used to handing a horse from the ground (Emmanuel is always on hand to help).
ACCOMMODATION
Accommodation is in a variety of simple 2* to 3* village hotels, guesthouses and 'Chambres d'Hotes' . On some rides an occasional night may be in simple hostel or 'refuge'. Bedrooms are generally twin share with their own bathroom - usually with loo and shower rather than bath - but if accommodation is very limited, you may be asked to share a bathroom or spend a night in a dormitory style room. Lodgings are chosen carefully for character, style and ambiance - as well as food - although sometimes there is very little choice.
RATES & DATES
Rates 2023

Wild & Medieval Aragon (5 nights) Euros 1575
Bardenas Desert, Navarra (5 nights) Euros 1490
Ultzama Valley to Sare (5 nights) Euros 1550
single supplement E38 per night (NB single rooms are not always possible - please contact us to discuss)

Prices are quoted in Euros. Payments to us can of course be made in pounds sterling if you wish and we can give you a sterling rate at the time of booking.

Rates include - all riding, twin accommodation, meals, wine with dinner, and transfers from Biarritz airport to the start of the ride and back at set times with the group.

Rates exclude - international flights to Biarritz, personal medical insurance (compulsory), any visa fees and any tips.

Dates 2023

Bardenas Desert, Navarra
Wild & Medieval Aragon
Ultzama Valley to Sare

Autumn dates on request for groups of 4 to 5

Average temperature guide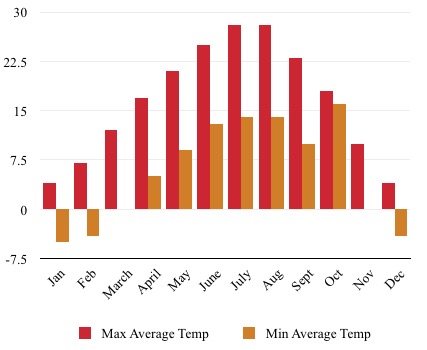 ITINERARY
Itinerary in brief, Bardenas Desert, Navarra - please enquire for other itineraries

| | |
| --- | --- |
| Day 1 | Arrive Biarritz airport where you will be met (usually around 4pm) and driven about two and a half hours, to comfortable accommodation in the town of Figarol. Dinner and night. |
| Day 2 | Breakfast and a short drive to meet the horses. After an introduction set off riding, entering the national park of Bardenas. The night is spent at an hacienda style house in the desert with wonderful views. |
| Day 3 | Set off riding on an ancient transhumance route used by the cowboys of the Pyrenees, through the spectacular scenery of the "White Bardenas". The night is spent at Cubilar, in a shepherds hut.  |
| Day 4 | Breakfast and set off on a ride exploring the desesrts & canyons. Dinner and night in Cubilar. |
| Day 5 | Saddle up and ride back towards Figarol, crossing country with a variety of vegetation including stands of wonderful umbrella pines. Arrive Figarol in the late afternoon and drive back across the border to Sare. Dinner and night in Sare. |
| Day 6 | Breakfast and then transfer to Biarritz airport. |
| | Contact us at info@rideworldwide.com or on tel (+44) (0)1837-82544 / 825440 for further information, detailed itineraries, dates and answers to questions |
TRAVEL
The meeting point for the rides is Biarritz airport with meeting usually on the afternoon of the first day. From the UK several low cost airlines operate during summer months - Easy Jet have flights from Gatwick and Luton and Ryan Air fly from Stansted. It is also possible to fly via Paris.