South Africa ~ Horizon Horseback Adventures
Riding and other activities from a comfortable private lodge and bush camp, available year round. Flexible length of stay; ideal for riders, mixed groups and families of all ages.

Horizon Horseback Adventures is based on Triple B Ranch in South Africa's Waterberg, one of its most beautiful, yet still relatively little visited areas and an easy 2½ to 3 hour drive from Johannesburg. A stay at the Horizon homestead is a chance for a wonderful variety of riding with lots on offer for all level of rider, from novice to experienced. Rides out explore the farm's 22,000 acres of undeveloped bush and its neighbouring game reserves and often include game viewing; polocrosse is another very popular option with plenty of chances to try this exciting, addictive game. A good sized swimming pool, numerous outings and activities for non-riders, flexible dates and itineraries, not to mention a wonderfully welcoming and friendly atmosphere, make Horizon an ideal destination for novice to experienced rider alike and perfect for a mixed or family holiday.

Stays at Horizon are available on request year round. See our Saddlebag Safari page for African Explorer Safaris.




SUMMARY
Riding: tailored to suit.
Horses: farm/locally bred, TB, Arab crosses.
Pace: moderate (tailored to suit).
Riding ability: all standards from novice to experienced riders.
Weight limit: about 95kg (15 stone) but please call us to discuss if your weight is close to this.
Accommodation: comfortable ranch house / cottages.
Group size: lodge sleeps up to 14; riding is in small groups usually maximum 8.
Season: year round.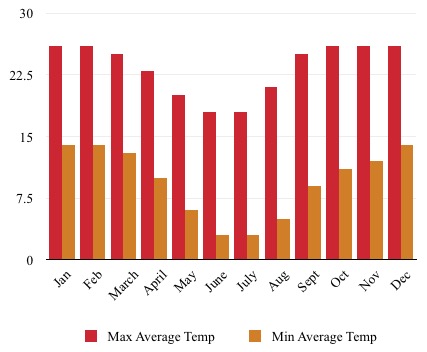 HORSES & RIDING
Horses: The horses include local breeds such as South African Boerperde crosses, as well as Thoroughbreds, part Thoroughbreds and Arab crosses. They are between about 14hh and 16.2hh and there is a good selection for the experienced rider as well as horses to suit someone with less experience. All are responsive to ride, extremely good natured and well mannered. They are also used to the bush and are very sure footed, coping easily with varied terrain. There are grooms on hand to look after the horses. Saddles are Maclellan style with some English saddles available. Guests at Horizon are usually split into groups to ride with the average group generally not more than 4 or 5 riders.

Hours: Riding hours at Horizon are very flexible and can be varied to suit.

Pace and experience required: Riders of all standards can be catered for at Horizon. Basic instruction is available and slow, gentle rides for beginners; whilst the experienced will enjoy a good selection of horses, fast riding if they wish, the cross country course and exciting polocrosse matches.
ACCOMMODATION
Accommodation at Horizon is in the converted homestead / ranch house and in four separate cottages close by. There are two twin guest bedrooms in the ranch house with en suite shower / bathroom and another twin bedroom which has a private bathroom opposite. The cottages, which are well designed and furnished and are built of stone and thatch, each have an en-suite bathroom. The ranch house also has a large comfortable sitting and dining room, with open fireplace, a swimming pool, a large covered veranda running along the side of the house (a wonderful spot for evening drinks) and a separate thatched 'boma' for barbeques.
For those who wish, it is also possible to stay at Camp Davidson where accommodation is in big African walk in safari tents set on wooden decks with proper beds and shower / loo attached. Stays here can be for the full duration, or just for a part of your stay.
RATES & DATES
Rates 2020

Rates are seasonal and calculated on a per night basis

Low Season - 6th January to 14th February, 1st March to 3rd April
& 20th April to 10th July
Adult in Lake cottage per night - twin / double share - £195 / single £293
Child (under 16) in Lake Cottage per night - twin share £141 / single £212
Adult in Garden cottage per night - twin / double share £195 / single £220
Child (under 16) in Garden cottage per night - twin share £141 / single £162
Adult in Standard Room per night - twin / double share - £164 / single £193
Child (under 16) in Standard room per night - twin share £137 / single £141
Third person in any room per night - Adult £160 per night; Child £133 per night

High Season - 15th to 28th February, 4th to 19th April
& 11th July 2020 to 4th January 2021
Adult in Lake cottage per night - twin / double share - £255 / single £383
Child (under 16) in Lake Cottage per night - twin share £187 / single £281
Adult in Garden cottage per night - twin / double share £255 / single £280
Child (under 16) in Garden cottage per night - twin share £187 / single £210
Adult in Standard Room per night - twin / double share - £218 / single £255
Child (under 16) in Standard room per night - twin share £182 / single £187
Third person in any room per night - Adult £204; Child £213 / single £176

At Camp Davidson - same rates apply year round
Adult per night sharing - £190; single supplement £99
Child under 16 per night sharing - £156; single supplement £78
Child sharing ten with 2 adults - £115 per night
NB: Stays at Camp Davidson can only be booked in conjunction with a stay at Horizon lodge; or with a stay at Limpopo Safaris. Supplement per night at Camp Davidson in the middle of a stay at Horizon - £43 per adult & £30 per child per night plus nightly rate at Horizon.

NB: Add transfers from / to Johannesburg available from £190 per person return.

Rates include - all riding and other available activities, twin accommodation, meals and drinks.

Rates exclude - International flights to Johannebsurg and taxes, transfreres between Johannesburg and Horizon, personal medical / travel insurance (which you must have), supplements for sing rooms, extra activites, any visa fees and any tips you may wish to leave staff.



Dates 2020

Dates at Horizon arranged to suit, year round
ITINERARY
| | |
| --- | --- |
| | Example itinerary in brief for a 6 night stay at Horizon |
| Day 1 | Transfer to Horizon on Triple B Ranch, about 3 hours drive north of Johannesburg. Lunch or tea when you arrive, meet the horses and a late afternoon ride to try them, returning to the ranch house for dinner and the night. |
| Day 2 | Morning and evening rides out from Horizon to explore the ranch, relaxing by the pool in the heat of the day. Night at the ranch house. |
| Day 3 | Today offers a challenge - an introduction to polocrosse. Return to the ranch for lunch and a siesta or a chance to tour Triple B Ranch before an evening ride for a sundowner at a scenic spot. Dinner and the night at Horizon. |
| Day 4 | An early start when the light is best, riding out to look for game. Return to the lodge for lunch and in the late afternoon ride out again, or perhaps visit the local community leather workshop. Dinner and night Horizon ranch house. |
| Day 5 | Breakfast then mount up and head into the game area, where you might spot the resident giraffe, zebra, eland, wildebeest, kudu or impala before stopping for a picnic lunch. In the afternoon set off riding through the reserve to Camp Davidson. Dinner and night at Camp Davidson. |
| Day 6 | An early morning ride to a new area of the farm, perhaps visiting the historic homestead and stopping for lunch by the pool. In the afternoon ride back to Camp Davidson for the night. |
| Day 7 | A final early morning ride back to Horizon ranch. Time to shower and change before brunch and then onward transfer or own arrangements to depart. |
| | Contact us at info@rideworldwide.com or on tel (+44) (0)1837-82544 / 825440 for further information, detailed itineraries, dates and answers to questions. |
TRAVEL
The nearest international airport is Johannesburg and transfers to the ranch can be arranged from there for an extra charge of approx £150 per person return to Horizon. British Airways, South Africa Airways and Virgin all have direct overnight flights from London to Johannesburg arriving the next morning. For an economy return flight from London budget about £650 to £900 per person (varies with the season and availability).