Other Ideas & Special Rides
As well as the standard riding trips featured on this website we have other riding options that might suit those with a particular interest and we will also once again, be offering several special rides. Some of these are with dedicated trip leaders meaning that not only will you benefit from the experience and knowledge of your local guide, but you will have the advantage of travelling with a private group of like-minded riders under the careful guidance of a well travelled and entertaining host.
---
SPECIAL RIDES 2017
---
BOTSWANA, Okavango Delta with David Foot - 1st to 8th July & 15th to 22nd July
NEW for 2017 and set to be the only fully mobile riding safari in the pristine wildlife haven that is the Okavango Delta. David is planning a flexible schedule and lightweight camp to allow you to really follow the action - join one of these rides and be amongst the first to experience it. Please contact us for prices and scheduled ride dates for 2017.
---
GEORGIA with Louise - 23rd June to 3rd July
Join Louise in Georgia riding across rolling meadows, mountains, forests and streams, in an area hardly visited by tourists. Visit abandoned monasteries and rural mountain villages before reaching the nights simple camp or stay with a Georgian family to share their welcoming hospitality (and Georgian vodka!). Only for the hardy, but a real adventure.
10 nights from £1650 per person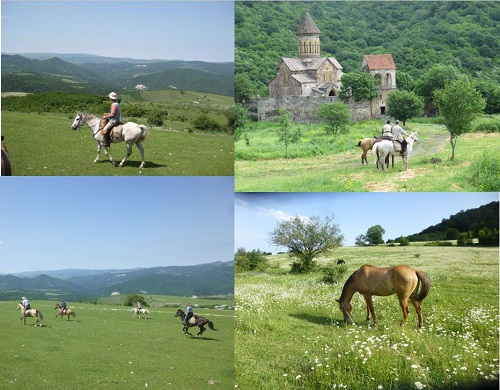 ---
SPAIN, High Pyrenees with Rosie - 2nd to 8th July
This summer Rosie is returning to Spain, riding a stunning route into the heart of the Pyrenees and at times crossing into France. Canter across alpine meadows on surefooted Spanish horses, then climb up passes as high as 2500 metres with wonderful mountain views. Cool off in a mountain stream and stay in a different village each night. A great value summer adventure!
6 nights from 1250 Euros per person
---
SPAIN, Gredos - Riding & Spanish - 9th to 16th July
A fantastic programme for those who would like to enjoy some super Spanish riding whilst improving their language skills! Five morning rides in the glorious and varied summer landscape of the Gredos, with afternoons to focus on improving language skills as well as time to explore the World Heritage city of Avila. A wonderful opportunity to immerse yourself in, and enjoy, all things Spanish!
7 nights from 2100 Euros per person
---
FRANCE, Riding the Pyrenees with Rose Webb-Carter - 16th to 21st September
After a superb trip last year, we are delighted that expedition leader Rose will be taking two groups to explore the Basque country of the western Pyrenees, riding in the footsteps of the Duke of Wellington. Spectacular mountain scenery, willing horses, fascinating history, comfortable accommodation and the chance to sample the wonderful local cuisine - this trip is a real delight.


---
COLOMBIA - 3rd to 12th December
An exciting, brand new ride led by experienced guide Sally Vergette, with a varied itinerary to make the most of this fascinating country. Starting in the coffee plantations, you'll ride past banana farms, jungle, waterfalls and colourful villages, before transferring to the highlands north of Bogota to explore a totally different area, reaching remote valleys, colonial haciendas and highlands.


9 nights from $3625 USD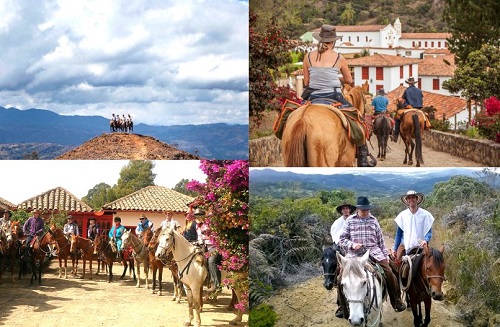 ---
Please contact us for further information, itineraries and prices – info@rideworldwide.com. Limited places available. Prices above are a guide based on 2 sharing and exclude International travel. Contact us for further price information