Other Ideas & Special Rides
As well as the standard riding trips featured on this website we have other riding options that might suit those with a particular interest and we will also once again, be offering several special rides. Some of these are with dedicated trip leaders meaning that not only will you benefit from the experience and knowledge of your local guide, but you will have the advantage of travelling with a private group of like-minded riders under the careful guidance of a well travelled and entertaining host.
---
SPECIAL RIDES 2017
TANZANIA, Serengeti Exploratory with Kaskazi Safaris & Tristan Voorspuy - 1st to 9th March
Two of our top safari guides are leading a NEW mobile ride across the rolling plains of the Serengeti ecosystem, aiming to catch the famed wildebeest migration. Kaskazi Safaris' Joanna Westermark is teaming up with Offbeat's Tristan - if you'd like to join them on this voyage of discovery, you'd better hurry as there's only one space left!
---
INDIA, Punjab & Holla Mohalla Ride - 12th to 21st March
From the noise and bustle of the Holla Mohalla fair to the peaceful countryside where farmers work the land as they have done for centuries, the Punjab is a region of great diversity. Join Nigel's group on a NEW ride with guide Bonnie Singh and his wonderful Marwari horses.
---
PORTUGAL Combo Dressage & Beach Ride - 8th to 15th April
A special combination to make the most of Portugal's horses and landscapes. Kick off with dressage lessons on a superbly schooled Lusitano at Solar de Espirito Santo, where the teaching is top class, yet relaxed. Then head to the Alentejo coast for some chilled-out coastal living and beach rides.
---
ARGENTINA, Estancia La Rosita - 19th April to 1st May
The Corrientes province - an unspoiled land of lush green pampa and water meadows, where gaucho culture is integral to life. Traditional ranch living, with picnic rides, cattle work and the occasional polo chukka by day, and the company (and excellent beef!) of your gregarious hosts by night.
---
BOTSWANA, Okavango Delta with David Foot - 20th to 27th April & 13th to 20th May
NEW for 2017 and set to be the only fully mobile riding safari in the pristine wildlife haven that is the Okavango Delta. David is planning a flexible schedule and lightweight camp to allow you to really follow the action - join one of these two exploratory rides, at a special introductory price and be amongst the first to experience it.
---
GEORGIA with Louise - 23rd June to 3rd July
Join Louise in Georgia riding across rolling meadows, mountains, forests and streams, in an area hardly visited by tourists. Visit abandoned monasteries and rural mountain villages before reaching the nights simple camp or stay with a Georgian family to share their welcoming hospitality (and Georgian vodka!). Only for the hardy, but a real adventure.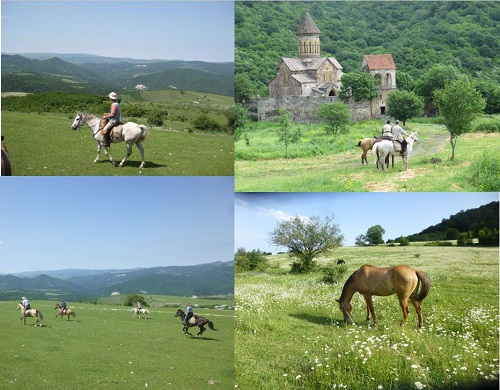 ---
FRANCE, Riding the Pyrenees with Rose Webb-Carter - 15th to 20th June & 16th to 21st September
After a superb trip last year, we are delighted that expedition leader Rose will be taking two groups to explore the Basque country of the western Pyrenees, riding in the footsteps of the Duke of Wellington. Spectacular mountain scenery, willing horses, fascinating history, comfortable accommodation and the chance to sample the wonderful local cuisine - this trip is a real delight.
---
ARGENTINA with Andrew Gillies – 10th to 21st November 2017
This November, Andrew Gillies will swap the desert dunes of Namibia for the green pastures of El Boqueron estate, before heading to the Patagonian Andes with Jakob von Plessen. With two top guides and the best of Argentine hospitality, it promises to be one to remember!
---
Please contact us for further information, itineraries and prices – info@rideworldwide.com. Limited places available. Prices above are a guide based on 2 sharing and exclude International travel. Contact us for further price information