Wyoming ~ The Bitterroot Ranch
7 night Sunday to Sunday ranch stays in north-west Wyoming. Available late May to late September, tailored for riders of all levels. Some special cattle weeks, ranch rider weeks and yoga weeks on offer.

Where In a remote valley between the Wind River and Absaroka mountain ranges in north-west Wyoming, about 2 1/2 hours drive from Jackson Hole and Yellowstone National Park.

What is it like Bordering miles of untouched National Forest, The Bitterroot is at the end of a 16 mile dirt road, looking out to sage brush covered hills, grassy meadows and protected National Forest. Its feeling is rustic and outdoorsy; a place without unnecessary frills. Wooden cabins are spread out along the river bank, the central lodge is surrounded by corrals where horses, dogs and various livestock comes and goes. The outlook is to grassy meadows, rolling sage brush hills that become craggy mountains with patches of thick forest hiding herds of elk, moose and grizzly bear. There are beautiful, wide trout-filled rivers, smaller streams and rocky gorges that no-one else can reach.

Who does it suit Anyone who wants to get away from it all, enjoy the scenery of the mid-west and be reassured of a good horse. As a guest ranch that also raises cattle, the guest programme is well developed and structured. There are morning and afternoon rides out from the base each day; lessons on offer on some days; picnic rides one day a week. You need to be prepared to go with the flow and what is on offer, but what you forgoe in spontaneity, you gain by knowing you get what you went for. Most weeks include a half day of organised cattle work, rounding up and sorting cattle and there are some weeks when extra cattle work is available, either helping move cattle to and from seasonal grazing, or checking herds in the hills. Short camping trips, taking luggage by pack horse, are another option and the ranch is ideal for keen fishermen; there is wonderful fishing in the ranch's rivers, ponds and neighbouring streams. Nights are all at the ranch base, in simple, rustic but reasonably comfortable log cabins with private bathroom and small wooden veranda.

Why we like it It offers a good mix of independence - you can keep yourself to yourself and do your own thing in between times - combined with structured good quality riding, in a gorgeous untouched spot. You'll be refreshed. Invigorating mountain air, home cooked tasty food, the soothing sounds of the rushing Wind River, enough exercise and activity to keep you busy, enough time to switch off, relax and just be. The Fox family, who own the ranch, breed and train Arab horses and The Bitterroot has British Horse Society approval - it was the first and is one of very few ranches in the States to get this.






SUMMARY
Riding: 3 - 6 hours a day (flexible)
Horses: Arab cross, Quarterhorse cross.
Pace: varied to suit riders, up to moderate/fast; slow on Wilderness rides due to terrain
Riding ability: all standards from novice to experienced riders
Weight limit: 91kg (14st 4 lbs)
Accommodation: comfortable log cabins
Group size: the ranch can host 32 guests, but riding is in small groups according to ability and the maximum riding group size is about 8
Season: May to September
Price: 7 night stays from USD 3135 (approx £2600) per person
HORSES & RIDING
Horses: The horses are Arabs, Arab / Quarterhorse crosses and local ranch bred horses of mixed blood. Many are home bred. There are about 190 on the ranch in all, including foals, yearlings and youngsters, and with over 100 riding horses, there is a wonderful selection for novice to advanced riders. The horses are of a kind, sensible temperament and are fit, forward going and responsive to ride. Guests are normally allocated three horses to ride during a week's stay which means the horses are always fresh, enthusiastic and well rested and riders have the challenge and variety of trying several different mounts.

Hours: Flexible but you have the option of riding for about 3 to 6 hours a day, riding out from the ranch base in the mornings and afternoons.

Pace and experience required: There is a large selection of different horses and riding can be tailored to suit different abilities from novice to advanced rider. Its a good ranch choice for experienced riders with riders split by abilities, over 100 horses and chances for faster riding on good terrain. Equally novice riders are well looked after with a structured programme and lessons available.
ACCOMMODATION
Accommodation at the ranch is in comfortable log cabins each with private bathroom with shower, bath and loo. The cabins are built along the banks of a clear mountain stream, are well situated and well separated to ensure maximum seclusion. They all vary a little in lay out, some are authentic mountain cabins that have been re-located, one or two are more newly built. All have mountain views and a small wooden veranda outside with chairs to relax on. Ranch evenings focus on the main lodge building where meals are also eaten. There is an outside veranda fro drinks, a large dining room with grouped tables, a sitting area with comfortable sofas and chairs set around a large open fireplace and a small library area / games room with pool table. The atmosphere is low key, informal and relaxed with evenings for chatting around the fire, reading and enjoying the peace and outside space.
RATES & DATES
Rates 2023

Prices (all rates include a compulsory 10% gratuity)
7 night Ranch Stay - USD 3135 per person
Autumn Cattle Round Up - USD 3245 per person

Cattle Range Rider Programme (7 nights) - USD 3255 per person
Riding & Yoga Retreat (7 nights) - USD 3350 per person
single supplement - USD 300 per week

Child Rates (children aged 4 to 15 yrs) - USD 2350 per child (7 nights sharing)

Half week stays are sometimes possible on certain weeks - please ask

Rates include - 6 days riding, guiding and equipment, 7 nights twin shared cabin accommodation, meals (dinner first day to breakfast last), wine with dinner, some soft drinks and a mandatory 10% service charge which covers gratuities and taxes; a laundry service is also available at the ranch.

Rates exclude - Flights to the US, transfers to the ranch, personal medical insurance (compulsory), extra drinks, supplements for a pack trip, fishing licences, any visa fees and any additional personal expenditure.

Prices are quoted in US dollars. Payments to us can of course be made in pounds sterling if you wish and we can give you a sterling rate at the time of booking.

Dates 2023

Ranch stays - Sunday to Sunday, 29th May to 25th September
Autumn Cattle Round Up - 24th September to 1st October

Riding / Yoga Retreats
9th to 16th July
20th to 27th August

Cattle Range Rider Week
30th July to 6th August
27th August to 3rd September

Pack Trips
Pack trips are run separately from ranch stays and usually operate from Wednesday to Sunday (4 nights) during July to mid-September
Average temperature guide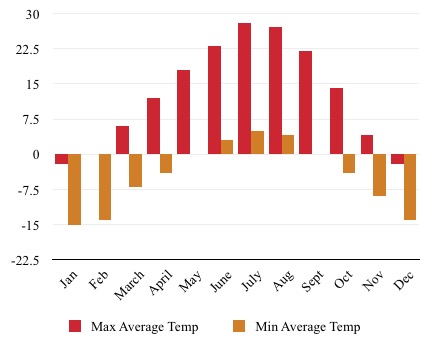 ITINERARY
| | |
| --- | --- |
| | Itinerary in brief |
| Day 1 | Transfer to The Bitterroot Ranch. Settle in before dinner and the night at the ranch. |
| Days 2-7 | Six full days to explore the wonderful riding country surrounding the ranch, usually riding out for 3 hours in the morning and 2 or 3 hours in the afternoon. Rolling sagebrush hills and open grassy meadows allow long canters if you wish and cattle work is an option. Each night in a comfortable cabin at the ranch. |
| Day 8 | Breakfast and depart. In late September cattle are moved down from the hills and you can join the autumn cattle round up. |
| | Contact us at info@rideworldwide.com or on tel (+44) (0)1837-82544 / 825440 for further information, detailed itineraries, dates and answers to questions. |
TRAVEL
The nearest airports to the ranch are Jackson Hole and Riverton (both about 100 miles / 2 1/2 hour drive from the ranch). The ranch is an easy drive if you have a hire car or we can arrange for you to be collected from and returned to either for an extra charge. There are several flight options - both United and Delta Airlines fly to Jackson via several US hub airports (eg Denver, Dallas Fort Worth, Seattle, Chicago). For flights from London budget around £800 to £1300 Economy return depending on season and availability.