Spain ~ Masos d'en Coll & the Catalan Coast
Stays of 3 to 7 nights starting at a rural guesthouse close to the coast in northern Spain. You can stay at the base or choose a ride from village to village. Available April to November with options suitable for confident novice to experienced riders.

Where In Catalunya, north of Barcelona, starting from a working farm and guesthouse called Masos d'en Coll.

What is it like Masos is in the 'Emporda region', the plains between the mountains and the Mediterranean Sea. There are small villages and historic hamlets, cork and pine forest on the hills and around the farm itself, fruit orchards, fields of sunflowers, wheat, barley and other crops. As you head towards the coast there are areas of marshland and finally, long sandy beaches.
Who does it suit Progressive rides, which are for confident intermediate riders and above, move from village to village, through rolling hills, over coastal plains and to the sandy beaches of the Costa Brava. Nights are at small hotels and guesthouses en-route. Discovery Rides include each night at Masos d'en Col, with daily rides, time to swim, or explore under your own steam. These are a great way to get to know the local area and can be adapted for different abilities from confident novice and up. All rides are a little 'hands on' - you need to help with your horse. Nothing too arduous but brushing and tacking up for example. Food, wine and accommodation are all straight forward but good!

Why we love it Friendly, easy going and uncomplicated to get to. Run by a very hospitable team who do their best to look after you and offer great value riding. All round reliable quality, without the frills you don't necessarily want. Its a lovely area to explore and who can resist riding to the coast...







SUMMARY
Riding: 3 to 7 hours a day
Horses: Andalucian crosses/Spanish Arab cross
Pace: moderate with good chances to canter
Riding ability: intermediate to experienced riders
Weight limit: about 90kg (14st 2lbs) but please call us to discuss if your weight is close to this
Accommodation: comfortable guesthouse; 2* and 3* village hotels
Group size: maximum 8 (private groups of up to 12 can be accommodated)
Season: February to November
Price: 7 night trails from 1350 Euros (approx £1170) per person

HORSES & RIDING
Horses The horses used for rides are well schooled crossbred Andalucian and Hispano Arabs. They have all been carefully chosen and most are between 14.2hh and 16hh and are of a medium build. They are fit, good natured, forward going and responsive to ride and well adapted to the sometime rough terrain. Saddles are mostly general purpose English saddles. Most horses are ridden in snaffles. Saddle bags are provided to carry items required during the day and for picnic lunches. Riders are expected to groom and tack up their own horse each day in preparation for rides and even occasionally to clean their own tack if necessary. There is a maximum rider weight limit of 90kgs.
Hours: The progressive rides generally include 5 to 6 hours riding each day, with occasionally a longer day; one base rides are a little more relaxed with 3 to 5 hours.
Pace and experience required: To take part in these rides you should have a reasonable amount of previous riding experience and a fairly good level of general and riding fitness. You should be secure, comfortable and in control on a well schooled horse at the walk, trot and canter and used to riding in open country. The horses are a well schooled, very enjoyable and forward going ride for experienced riders. There are also well mannered, steady horses that are suitable for the fit, but less experienced rider. There are plenty of opportunities to move on, with some long canters particularly on the progressive itineraries.
ACCOMMODATION
Accommodation on all the rides, although not luxurious, is of a good standard and all rooms have their own bathrooms. Masos d'en Coll (where the first and last night of most progressive rides, and all nights on the Discovery Ride, are spent) is a working farm in a fairly remote location. It has been re-built and re-furbished. Bedrooms vary in size and are simple but stylish, all have their own bathrooms. Masos has its own small swimming pool, another place to relax after a day's riding. Accommodation used on the progressive rides varies and depends on what is available along the route. You will either stay in small hotels - these are usually about a local 2* to 3* standard and some have swimming pools - or in the more remote areas, in smaller guesthouses. The latter are simpler but often with plenty of local character.
RATES & DATES
Rates 2022

Prices are seasonal:

Mountains & Sea Ride (7 nights): Standard 1350 Euros; High season 1450 Euros
single supplement 245 Euros
Taste of Costa Brava Ride (4 nights): Standard 765 Euros; High season 825 Euros
single supplement 140 Euros
Tramuntana Ride (4 nights): Standard 765 Euros; High season 825 Euros
single supplement 140 Euros
Combined Costa Brava & Tramuntana (7 nights): Standard 1400 Euros; High season 1450 Euros
single supplement 245 Euros

Discovery Rides full day program: (3 to 7 nights):
5-6 hours riding per day: 3 nights 570 Euros; 4 nights 755 Euros; 5 nights 940 Euros; 6 nights 1120 Euros; 7 nights 1310 Euros
single supplement 35 Euros per night

Discovery Ride half day program (3 to 7 nights):
3-4 hours riding per day: 3 nights 535 Euros; 4 nights 675 Euros; 5 nights 825 Euros; 6 nights 975 Euros; 7 nights 1125 Euros
single supplement 35 Euros per night

Rates include - all riding, shared (twin or triple) accommodation, meals (except dinner on half day Discovery programs) and transfers from Girona to the start of the ride and back at set times with the group.

Rates exclude - international flights, personal medical insurance (compulsory), your bar bill, dinner on half day Discoveryprograms any visa fees and any tips.

Prices are quoted in Euros. Payments to us can of course be made in pounds sterling if you wish and we can give you a sterling rate at the time of booking.

Dates 2022

High Season = *

Mountains & Sea Ride (7 nights)
15th to 22nd May*
5th to 12th June*
18th to 25th September*
16th to 23rd October*
13th to 20th November

Taste of Costa Brava Ride (4 nights)
6th to 10th April
23rd to 27th April*
11th to 15th May*
25th to 29th May*
14th to 18th September*
28th September to 2nd October*
12th to 16th October*
2nd to 6th November

Tramuntana Ride (4 nights)
20th to 24th April
8th to 12th May*
9th to 13th October*
30th October to 2nd November*

Combined Taste of Costa Brava & Tramuntana (7 nights)
20th to 27th April
8th to 15th May*
9th to 16th October*
30th October to 6th November*

Discovery Rides full day program (3 to 7 nights)
Flexible stays between the following dates:
1st to 28th February
1st to 20th March
10th to 20th April
27th April to 8th May
4th to 14th September
6th to 13th November
20th November to 23rd December

Discovery Ride half day program (3 to 7 night):
Flexible stays betwen the following dates:
12th June to 4th September

Other dates for both Discovery & Progressive programs may be availalbe on request for private groups

Average temperature guide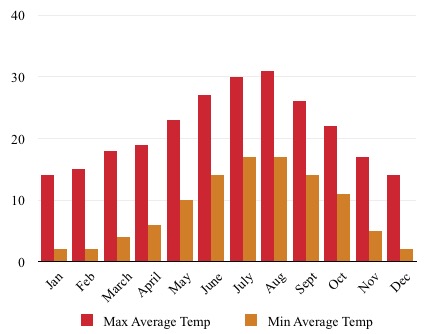 ITINERARY
Itinerary in brief - Mountains & Sea Ride. Please enquire for other itineraries.
| | |
| --- | --- |
| Day 1 | Arrive Girona airport. Evening transfer to Masos d'en Coll. Dinner and night at Masos d'en Coll. |
| Day 2 | Meet the horses and set off riding along tracks through farmland of cereals and apple plantations. Follow the river Ter across the plains of Emporda to the Natural Park of Mongri. A picnic lunch and return to Masos d'en Coll for dinner and the night. |
| Day 3 | Set off riding through some small traditional villages, fields and oak forest, stopping near Peratallada for a picnic. In the afternoon continue to Mas Masaller where the night is spent. |
| Day 4 | The ride today is a circuit passing severla Romanesque villages and with some wonderful views of the Pyrenees and the Costa Brava. Return to Mas Masaller for dinner and the night. |
| Day 5 | Set off riding into the park of Les Gavres, hills clad oak forest and maritime pine trees. Stop for a picnic lunch then in the afternoon desecend through hidden valleys of chestnut and hazel trees to the village of Pals. From here continue to the coast. The night is spent at a hotel just 5 minutes walk from the beach. |
| Day 6 | Today's ride takes you into the hills, passing old mines and stands of holm oaks and pines. Climb to a high point where there are splendid views over the beach of Pals. After lunch you return to your hotel on the coast by a different route. |
| Day 7 | An early start and set off riding to the sea with a chance to canter along the 3.5km sandy beach of Pals (season dependent). From here you head inland, following the Ter river back to Masos d'en Coll. Time to realx before a farewell dinner and final night at Masos d'en Coll. |
| Day 8 | Breakfast and transfer with the group to Girona airport for your flight home. |
| | Contact us at info@rideworldwide.com or on tel (+44) (0)1837-82544 / 825440 for further information, detailed itineraries, dates and answers to questions. |
TRAVEL
The meeting point for the rides is Girona airport and transfers from/to Girona at set times on the first and last days are included in the ride rate.
Jet2 and Ryan Air have flights from various UK regional airports to Girona. British Airways, Iberia, Easy Jet and several other airlines have direct flights to Barcelona from a number of different UK airports.